What's For Dinner?
Weekly Menu Planning Worksheet & Master Grocery List
3/29-4/4
Here's a few things we're having this week.  In addition there is the possibility of pizza with homemade mozzarella.
3/1-3/7

1/1-1/09
Here are some breakfast, lunch and dinner ideas to start out the New Year:
Turkey Sandwiches with Fruit
Bean Burritos
12/1-12/11
11/13 Thanksgiving Menu
Fried Whole Turkey and a Roasted Turkey Breast
Mashed Potatoes and Gravy
Cornbread Stuffing/Dressing
10/12-10/18
9/28-10/4
9/14-9/20
That's all I know.
8/31-9/6
What?  We're still eating dinner around here? Yes, actually.  Still trying to shake the hangover that is a two week vacation, with a five hour time difference, two days before the start of school and all the requisite craziness that comes with it, but yes we are eating dinner around these here parts.  The grown-ups have been making our way through this list: Bittman's 101 Simple Salads for lunches-trying to eat less meat before the dinner hour.  It has been successful thus far, just a bit of a slow start.
7/6-7/19
6/11-6/18
It is SO HOT.  All I want to eat are salads.  I am going to try to use my crock pot to keep from heating the house up so much but we'll see.  I really should change the name of this section to What's on the Menu since I have lots of non-dinner stuff here.

5/25-5/31
It's my Birthday! This week is a busy one with lots of fine dining in my future.
5/18-5/24
We are eating healthier around the chaos household (I know you can totally tell, right?).  Last week's meal planning revival went really well, so here's week two of being back on the wagon.
4/13-4/19

3/30-4/5

2/23-3/8
I lost some time this week due to some medical issues so here is next week's menu.  I am hoping I can make most of these pretty reasonably within our budget.  You'll notice several recipes from Lisa at Homesick Texan there is something about good, down-home Texan cooking that fills the tummy even on a budget.
2/16-2/22
Ugh, I hate menu planning soooooo much.  But I really need to do it better so here I am trying to plan something for this week.  Coming up soon: Recession Food (once I eat everything that's currently in the freezer).
Chicken Tetrazzini (already frozen)
Something made from 2 lbs of frozen crab legs

1/26-2/6
Anybody know how to cook london broil?  I bought it on accident.
1/12-1/18
This week will be all Pantry Challenge all the time. Except for Friday when my baby turns one!
Waldorf Salad
Pizza and Cake for the Baby's Birthday 🙂
1/5-1/11
Okay it's a New Year-a fresh start, and all that-so we will once again begin the menu planning in full force. This year's themes, at least until I get bored with it, will be healthy, cheap, fast, and tasty. Emphasis on shopping for what's on sale, using ingredients from the pantry, and maybe a little OAMC thrown in for good measure.
This week's menu so far:
Stuffed Pepper Soup and Rice (my favorite 350 calorie meal)
Turkey Stock
Chili Dogs (I know it doesn't fit but it's a Dad meal)
Going to try my hand at baking some sandwich bread, we'll see what sort of commitment I am willing to make to not eat the stuff at the store. Prepare for both a high horse and a soapbox.

11/24-12/1 Thanksgiving!
I have to work during the day on Thanksgiving but we will be hosting dinner anyway-I know, crazy! Most of the cooking will be done beforehand so things just need to be heated and served, so all of this weeks meals are going to center around the Thanksgiving menu, which consists of at least 3,000 pies no matter who is coming to dinner. So I managed to pawn Thanksgiving off on my mom (Thanks Mom!) but I am still making pies. Lots of pies. That's all I care about on Thanksgiving frankly. We will be having a dessert open house Thursday night so friends can drop in and have pie and a glass of wine. A little less stress this way because I LOVE making pies. Even more than eating them.
11/17-11/23
Mmmm, this week so far:
11/10-11/16
Man, I didn't cook anything last week! So what's on the menu for this week?
11/3-11/9
Ok, this week I am getting real about planning our menu: breakfasts, lunches, and dinners. I probably need to adjust my grocery budget but won't know unless I do it right. Currently, we are still spending $600 for the five of us (including all household goods) but that's not quite making it these days.
Breakfast: Breakfast Burritos or Biscuit Sandwiches
Lunches: Salads? Sandwiches? Still working on this…
Meatless: Chicago Style Pizza, salad (dressing?)
10/27-11/2
So, I need to get real about planning our meals. I am wasting a ton of time and money at the grocery store buying haphazardly. I like to have certain things always on hand for back-up meals but I need to have a better plan for lunches.
10/20-10/26
If you haven't already noticed, I am very much a spontaneous cooker. I get a taste for something and that is what must be made for dinner. Menu planning just doesn't work out for me in general. I do much better if I focus on what I have on hand. I got a new cookbook
so maybe something from it will show up next week.
10/13-10/19
So there are a couple of new restaurants opening up this week and I know we won't be able to resist. I am not going to bother planning a bunch of meals then.
10/6-10/12
I'm brain dead, should I go to the store and buy the beef I am craving? Or make due with the chicken in the freezer? I really want to make pot stickers but I need some ground pork. Go to the store? Don't go to the store?
9/29-10/5
I don't know why, but the biggest casualty from Hurricane Ike seems to be frozen broccoli. There is no frozen broccoli to be had in any of the grocery stores. I've checked them all.
9/15-9/28
Depends on what is available at the grocery store. Start looking for Honeycrisp apples!
Hopefully I can make some apple cider or apple dumplings soon so it will start to feel like fall around here. The kids are all out of school due to the damage from the hurricane, so it's hard to get into a good fall mood. Also, I'd like to make up some calzones and breakfast burritos for the freezer.
9/8-9/14
Vacation! We'll be eating here, here, here and here. Oh yeah, and Daddy Chaos's birthday? We'll be eating here.
9/1-9/7
Next week we will be out of town all week so my plans are not to go to the grocery store at all this week. I am going to try to cook from the pantry and freezer. Hello spaghetti and grilled cheese!
Pasta with spaghetti sauce from the freezer, garlic bread made from frozen ciabatta loaves and better butter, steamed broccoli or salad if the lettuce I bought last week somehow survived the weekend in the veggie bin
Hot Dogs and Buns, Chili and Cheese and Chicago Style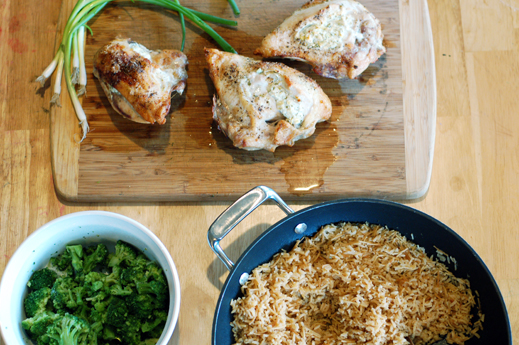 8/25-8/31
This week it's all based on the various meats I have stock piled in the freezer. The first week of school is traumatic enough without trying to make difficult, time consuming meals. Most of these will be pretty easy to get together, with only one component requiring actual work.