July 14th, 2009 by katie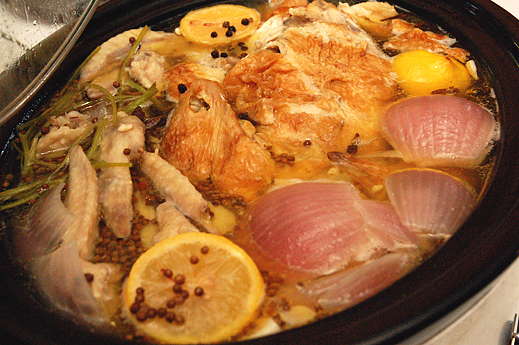 I have posted about making chicken stock before.  Having homemade chicken stock on hand is one of my favorite kitchen staples.  It is rich and flavorful with no calories or sodium and-the best part-its free!  What could be a better investment of a lazy day at home?  I save up my chicken parts and carcasses in the freezer until the day I feel like hugging the stove and puttering around the house.  I will admit, though, it is kind of a pain.  I can never seem to keep the pot at the right temperature.  Plus while it is certainly an easy process, you do still have to babysit the stove all day.
Enter: the crock pot.  I have a huge crock pot and I have started using it for my chicken stock.  It keeps the stock at the perfect simmering temperature and doesn't evaporate as much off, resulting in copious amounts of rich, golden stock-no babysitting required.   I make stock so much more now that I know this trick.  I just throw the leftover chicken and vegetable bits in the pot with water to cover and then 8 or 12 hours later-or whenever I get around to it-I strain it and cool it.  You can start it after dinner and let it go overnight, or you can throw it in the pot in the morning and put it away before bed, whatever works for you.
When I make my stock in the crock pot I easily get 16 cups of perfect broth.  There is no recipe here, you put in whatever you want to flavor your stock with.  Here I have a chicken carcass and some wing tips (both I pulled from the freezer and thawed briefly under running water while I gathered my other ingredients), a red onion, a few stalks of celery, garlic cloves, a lemon, some cilantro stems (when adding herbs the leaves get gunky so just use the stems), a piece of ginger, some peppercorns, coriander seeds, and star anise for making Pho Ga.  Just use what you have on hand, or even just chicken and water!  Remember that what you flavor your stock with will really carry over to the dishes you make with it.
Update: Here's my method for storage in case you aren't familiar with making stock.  Strain your hot stock into smaller containers, I use the tall 4 cup Ziplock Twist 'n Loc containers, then I fill the sink with ice and cold water and chill the stock like that for a few minutes until it is about room temperature. Then it goes into the fridge for up to a week. The fat will solidify at the top and you can remove it and throw it away.  I either make lots of chicken stock heavy dishes that week (a good batch of risotto or tortilla soup will go through a couple of containers) or when I get around to it I scoop the stock out in one cup portions and freeze it flat in freezer bags.  It should be fine in the freezer for several months.

Posted in Budget, Tips and Tricks