September 28th, 2008 by katie
Finally! School is in, folks. It's been a tough couple of weeks but the kids are finally back in their element. Seemingly just in time, the weather is starting to cool off at night and fall seems to actually be possible. If you haven't noticed, I love fall. I love the weather, the foods, the holidays and atmosphere.  Even in Houston, I can feel the air getting a little crisper-a little drier.  The leaves won't turn here and it will be in the 80s until December, but you can smell fall in the air and feel the excitement and anticipation.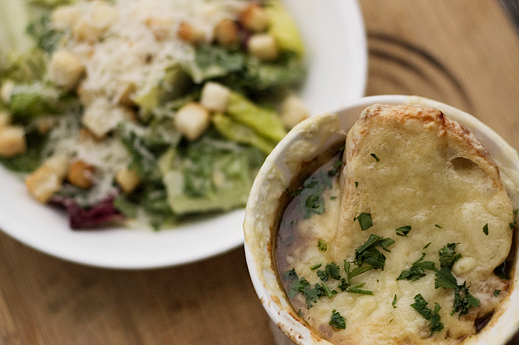 Often, I am disappointed to find French Onion Soup to be little more than raw onions in beef broth, when really it should be so much more.  I wanted to make a soup that would be a meal.  A warm, rich bowl of comfort.  This is not a quick soup-it takes over an hour-but it is rich and velvety and worth it. It makes a great fall meal paired with a salad and tart apple slices.  Next time I might try doubling the recipe and keeping a batch in the freezer for the many busy school nights coming up.
French Onion Soup
serve 4-6, prep 10 min, cook 90 min
3 large onions, red, yellow, white or a combination, thinly sliced
1 large shallot, thinly sliced
3 tbsp butter
1 tbsp olive oil
1 tsp salt
1/2 tsp sugar
3 tbsp flour
1/2 cup dry white wine
56 oz beef broth, boiling
1 heaping tbsp mushroom soup base (optional, or could sub mushroom broth for some of the beef broth)
2 oz Swiss cheese, shredded
1 loaf crusty french bread, thick slices
Swiss or Provolone cheese, thick sliced
Parmesan cheese, for sprinkling (optional)
Heat butter and oil in a pot, add onions and shallot, sweat and soften for 15 min.
Add salt and sugar, cook for 30-40 minutes until deeply golden brown, stir often enough so that they do not scorch.
While onions are cooking bring broth to a boil, add mushroom base.
Once thoroughly cooked, sprinkle onions with flour and cook, stirring, for 3 minutes.
De-glaze with white wine and add hot beef broth.
Simmer, partially covered, for 30 minutes, stirring occasionally.
While soup simmers, toast french bread slices at 325°F for 30 min.
Turn off heat on soup and stir in shredded Swiss.
If you have individual oven-proof bowls: ladle soup into bowls, cover with a thick slice of bread, sliced Swiss and sprinkle with Parmesan. Broil-keeping a close eye!-as needed to melt and brown cheese.
If you don't: Cover toast with Swiss cheese and sprinkle with Parmesan, broil until cheese is melted. Serve soup topped with cheese toasts.
The onions you choose for this soup will greatly affect the flavor.  Super sweet varieties of onion will make the soup noticeably sweet.  I would use a combination of typical yellow or white onions and a red onion to keep the flavor beefy and onion-y without getting too sweet.