November 17th, 2009 by katie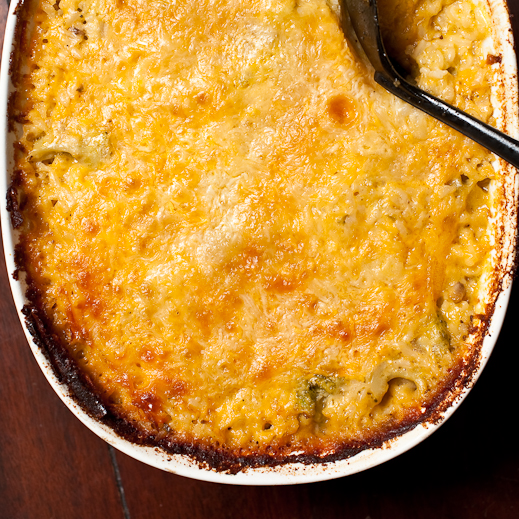 And so begins my official Thanksgiving recipe countdown.  First up is our favorite holiday side dish. I don't know why we only serve this at holidays, probably because it makes a ton and everyone loves it.  A creamy concoction of tender broccoli, rice, and crusty cheese-what's not to love?
I really like to hear about different family traditions at Thanksgiving.  I think it is interesting to see what the must have dishes are with each family.  What's your must have Thanksgiving dish?  With both our families there is always a version of this casserole.
Broccoli Rice Cheese Casserole
serves 12, prep 10-15 min, cook approx 45 minutes
1 pound broccoli florets (fresh or frozen)
1 cup onion, diced
1/2 cup celery, diced
4 cups cooked white rice (2 cups uncooked)
2-3 cups shredded Colby cheese (or whatever)
2 cans cream of soup whatever flavor (mushroom, chicken, and/or celery work best)
Preheat oven to 350°F.  Grease a 3 quart casserole dish with a lid.
Saute onion, celery and fresh broccoli if using (you don't have to saute frozen broccoli since it is usually parboiled) until soft.
In the casserole dish, stir together veggies, rice, 1 to 2 cups of cheese and soup.
Cover with remaining cheese and bake, covered, for about 45 minutes or until hot.
Remove the cover to brown cheese.
The nice thing about casseroles like this is that they can be prepared ahead of time and refrigerated or frozen until ready to cook.  Be sure to give the dish adequate time to defrost/warm-up or anticipate a longer baking time.  It can really vary depending on how cold it is going into the oven, how many other dishes you are baking at the same time, etc… but it is also very forgiving.
Actually, the whole casserole is really forgiving.  You can use any flavor or combination of cream soups you like or it is especially delicious with the real cream soup.  I have also made it without bothering to use the onions and celery-and so skipped the entire cooking step and it tastes just fine.  We have even mixed it together with uncooked instant rice and baked it that way, letting the rice cook in the casserole while it is baking.  I prefer the fully cooked version only because I know it will be edible at any point even if I screw up the baking time.

Posted in Easy, Pantry Challenge, Sides