May 27th, 2009 by katie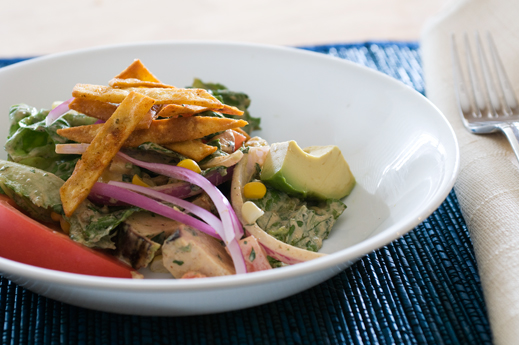 Can you believe I have been wanting to try this recipe since August 2006?  That was when it was first featured in Cooking Light and I knew then that it would be great.  Back then we didn't eat as wide a range of foods as we do now, especially mrChaos.  I knew better than to even suggest a salad for dinner.  The horror.
These days we eat much more adventurouslyand can appreciate lighter dinners and dishes that don't fit the box of our usual routine.  Not that there is anything adventurous about this taco salad-it is simply a fresh, filling salad that doesn't leave you feeling heavy or stuffed.  We made cilantro-lime rice on the side for those who needed something a bit more substantial.  Combined on the plate, it was like eating at mrChaos's favorite burrito place.
I think the success of a dinner salad relies heavily on powerful flavors and textures.  The ingredient list below appears long but this salad is easy and quick to put together.  I marinaded chicken breasts and grilled them before making the salad, however any chopped, cooked chicken will do.  You also don't have to make the tortilla strips, but I think they lend a nice crunch to the mix.  I gave some proportions below but it is a salad, so feel free to adjust to your tastes.  Cooking Light also suggests adding rinsed, canned black beans and using grilled corn kernals.
Chipotle Chicken Taco Salad
serves 4, prep 20 min, cook 5-10 min, adapted from
Cooking Light, August 2006
Chicken Marinade (optional, marinade overnight)
1/4 cup orange juice
1/4 cup soy sauce
1 tsp cumin
1 tsp chili powder
2 cloves garlic, smashed
Tortilla Strips
4 corn tortillas, sliced into strips
1 tsp cumin
1 tsp smoked paprika
1 tsp kosher salt
oil
Dressing
2/3 cup sour cream
1/3 cup fresh cilantro, minced
4 tsp lime juice, I added the juice from 2 limes
1 chipotle chili, minced (canned in adobo sauce)
1 tsp cumin
1 tsp chili powder
salt to taste (quite a bit more than the 1/4 tsp called for)
Salad
2 cups chopped, cooked chicken breast
4 cups shredded romaine
1 cup diced tomato
1 large avocado, peeled and sliced
1 cup frozen corn kernels, thawed
1/4 red onion, sliced
Marinade your raw chicken breasts if using, store in the fridge overnight.
Heat about one inch of oil in a skillet for frying.  Fry tortilla strips until golden brown and crisp.
Toss with spices and salt.
While preparing salad, place chicken breasts on a hot grill pan and cook until opaque all the way through.
Prepare dressing by combing all ingredients in a small bowl.
In a large bowl, combine salad ingredients, toss with dressing to taste.
Slice cooked chicken breast and toss with salad or serve over salad.
Top with tortilla strips.
This recipe is really cheap if made with leftover dark meat, such as chicken leg quarters. So what are you guys thinking about the Cost Analysis(es? Analysi?), do I need to keep them up? Are they helpful or interesting or have you gotten the point and enough already don't you know it's tacky to talk about money?