September 26th, 2008 by katie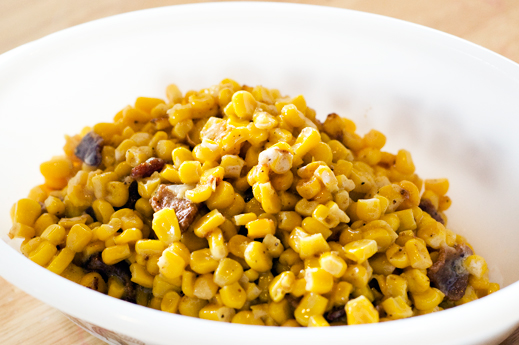 What to eat after days of granola bars and peanut butter sandwiches? Happy, satisfying comfort food. The grocery stores have a very limited supply right now but I managed to procure some bacon, heavy cream, yellow onions and frozen corn. Creamed corn seemed the inevitable result. You'll notice my creamed corn isn't thick or, well, creamy. You can adjust the amount of cream to an amount that makes you happy. I also decided to make some creamy Parmesan risotto, so I made the corn a little drier than I might if I was serving it with a chicken breast.
Creamed Corn
serves 4, prep 5 min, cook 10 min
2 slices bacon, chopped
1/4 yellow onion, finely diced
2 cups corn kernels, fresh or frozen
1/2-1 cup heavy cream
Saute bacon over medium heat until almost cooked.
Pour off all but 2 tbsp fat and add diced onion. Saute bacon and onion together until bacon is well browned and onion is soft.
Add corn kernels and cream, bring to a simmer.
Simmer approximately 10-20 minutes until cream has thickened and reduced. Season with salt and pepper (and maybe a dash of garlic powder).
I kind of over-reduced my cream because I was paying attention to my risotto. If this happens to you, just hit it with another splash before serving.