July 7th, 2009 by katie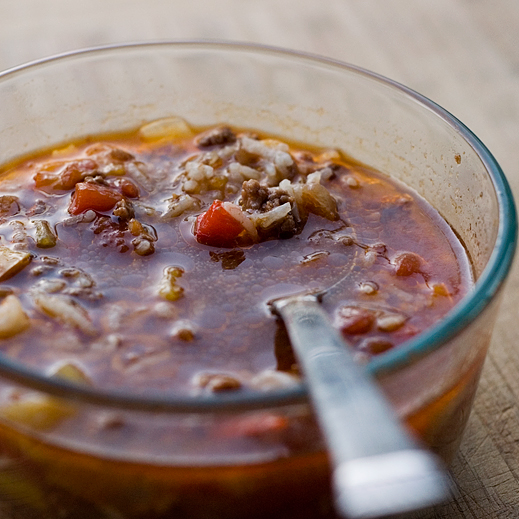 Want stuffed peppers without having to turn on the oven? This deconstructed stuffed pepper is a family favorite.  It is a simple soup, but hearty and filling and yet low calorie.  My mother makes this soup in huge batches and then freezes it in 2 cup containers.  To serve, we heat the soup and make fresh rice on the side.  It is also great fresh and only takes about 30 minutes to make.
One cup of soup is about 200 calories, so served with one cup of rice (200 calories) the total dish is about 400 calories.  It is one of my favorite meals when I am hungry but have exhausted my calories for the day.

Stuffed Pepper Soup
makes 6 cups, prep 15 min, cook time 30 min
1 lb ground beef, I use 93/7 beef
1/2 onion, diced
2 stalks celery, diced (plus leaves for garnish)
1 lb bell peppers, diced (approx 3 large)
2 cloves garlic, minced
1 (14.5 oz) can diced or crushed tomatoes
2 cups water or low sodium beef broth
1 tbsp beef base
salt and pepper
rice
In a large stock pot, crumble ground beef and stir in onion, celery, peppers, and garlic.
Heat over high to brown beef and sweat and soften the vegetables, about 10 minutes.
Add tomatoes, beef stock or water, and beef base.
Simmer 15 minutes or longer until ready to serve.
Taste and season with salt and fresh ground pepper.
Serve with fresh rice.
This is good with your typical long-grain rice or a wild rice blend.  Feel free to add cooked rice to the pot as desired, but I prefer to serve it on the side so you can adjust the amount in each bowl.  It is a good one to make when bell peppers are on sale and is best with a combination of red, orange, green and yellow peppers.

Posted in Easy, Fast, Main Dish, Things I Love