May 24th, 2008 by katie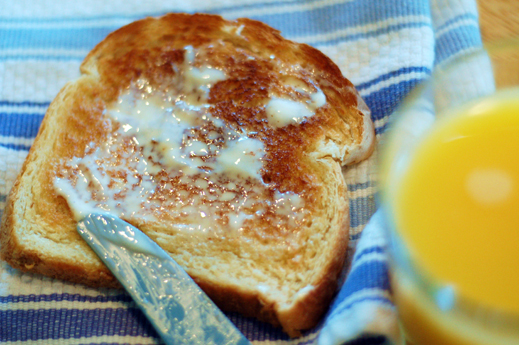 At last, something to bring the butter and margarine camps together! When I was a kid we only used butter in our house. I am sure most of you are familiar with the frustration of trying to butter toast with cold, hard, straight-from-the-fridge butter. If you're not, then you should try it. It's very frustrating. One day, I came home from a friend's house with the most wonderful news. They was such a thing as a delicious, creamy spreadable butter at the store and we should try it! Of course it was margarine and my mother said no. Once out on my own, though, I rebelled. I experimented with different spreads and picked one I liked with great butter flavor and a high oil content. Then I started learning about trans fats and got a little nervous. Then I had a bunch of kids and spent all of my money and got even more nervous. Finally, I decided mom knew what she was talking about and switched back. I pined for my creamy spread, though. Until, one day someone mentioned mixing a little heart-healthy olive oil into their butter. Better Butter was born!
Better Butter
Makes about 3 cups
1 lb butter, salted or unsalted, room temperature
1 cup olive oil or canola oil, extra light
Using a hand mixer or stand mixer with a whisk attachment, whip the butter on high speed until smooth and fluffy.
With mixer running, slowly pour in oil. Continue mixing on high speed until thoroughly combined.
You may need to scrape down the sides and mix again to get a totally smooth combination. The mixture should resemble cake batter: liquid, but thick and fluffy.
Spoon into some kind of sealable rigid container and refrigerate.
I love love this stuff. It is fantastic as a spread and for sauteing. It has a great buttery taste and the oil makes it possible to cook at a nice high temperature. This is a must-have kitchen staple in my refrigerator and I will find the time to make some even if the only clean dish in the house is the bowl of my stand mixer. You can also use any oil you like, if by chance flax seed or canola is more your cup of tea. If you make Better Butter like me you will put the frozen sticks of butter in a bowl on the counter-because you forgot to put them into the fridge to thaw-and then get busy doing other things and come back to it hours (yes, sometimes days, it is just butter after all and I do have three children) later when its nice and soft. Once it is totally smooth and fluffy, I divide it into 2 Rubbermaid containers and put it in the fridge. It lasts about 2-3 months here depending on how many waffles we are eating around that time.
Make this. You won't know how you ever lived without it.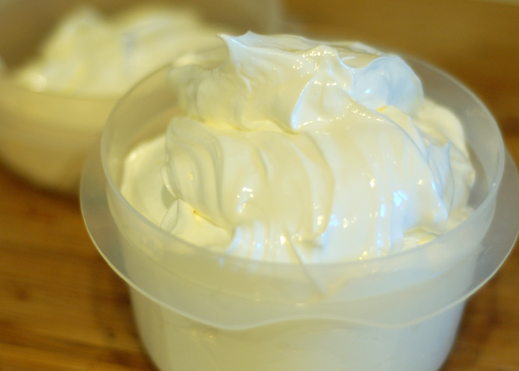 Posted in Condiments, Easy, Fast, Things I Love, Tips and Tricks