May 25th, 2008 by katie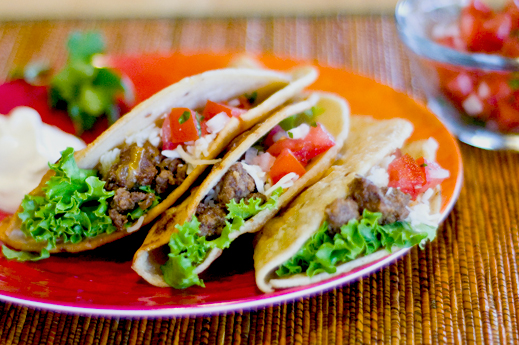 Everybody knows how to make tacos: brown the meat, add the packet and water, serve. Awesome, good for you, go make tacos. Thank you.
If you want a good taco recipe that uses spices from the cabinet, or if you act crazy like me and make your own taco packets, keep reading.
Tacos
serves 4-6, prep 5 min, cook 30 min
2 tsp chili powder
1/2 – 1 tsp dried red pepper flakes
1/2 tsp dried Mexican oregano
1 tsp salt
1 tsp cornstarch
1 tsp cumin
1 tsp garlic powder or 1 clove of garlic, minced
1 lb ground meat (beef, pork, chicken, turkey, combination, whatever)
1/2 yellow onion, finely diced
1/4 cup water
This works easiest if you prepare your spice "packet" beforehand. Place all spices in a small bowl chili powder through garlic powder, if using.
Crumble meat into a hot skillet, add onion and garlic clove, if using. Cook until meat is browned and onions and garlic are soft.
Once meat and onions are cooked, pour off any excess fat. Add water and spices to the pan and lower heat to a simmer.
Simmer about 15 min or until sauce thickens.
While taco meat is simmering set out shredded cheese (or quick! shred the cheese!), lettuce, pico de gallo, sour cream and either corn taco shells or four tortillas.
Taco bars are a good way to feed a crowd, setting out various toppings and letting kids and adults make their own. Or make Taco Night extra cool by spreading refried beans or queso over one side of a flour tortilla then wrapping it around the outside of a corn tortilla before you fill it with taco stuff. If you want to make a big jar of this mixture so you just have to scoop it out it's about 2 generous tablespoons per 1 lb of meat.
If you like this recipe, you might like these: