December 19th, 2009 by katie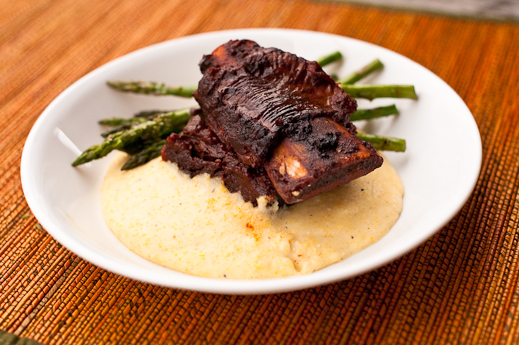 Wow. Polenta, guys.  This was my first attempt at polenta and-wow!-it is some good stuff.  The short ribs were great and if you are looking for a short rib recipe that takes less than two days you can follow this recipe here.  It was very good and very easy which is pretty much what I look for in a recipe.  The polenta was also super easy and delicious.  I didn't really know what to expect and if you haven't tried polenta yet, there is really no way to explain it.  It's somewhere between mashed potatoes and risotto in that it is thick and creamy with a nice full mouthfeel, soaks up sauces, and rounds out the meal.
Basic Polenta
serves 4, prep 5 min, cook 20 min, adapted from Bitten, October 2009
1 cup milk
2 cups water
pinch of salt
1 cup corn meal
fresh ground pepper
2 tbsp butter
1/4 cup Parmesan cheese, grated
Combine milk, water, and a large pinch of salt in saucepan.  Bring to a boil.
Pour cornmeal into boiling milk, whisking constantly until combined.
Bring polenta back to a boil then turn heat to low to keep polenta at a simmer.
Stir occasionally and cook about 20 minutes or until polenta tastes creamy.
Salt and pepper to taste.  Remove from the heat and stir in butter and cheese.
What's great about polenta is, unlike mashed potatoes, it is made entirely of items you either typically have on hand or can keep in the pantry.  I actually think it has much better flavor and texture than potatoes as well (I'll admit that I make lousy potatoes though).