November 7th, 2008 by katie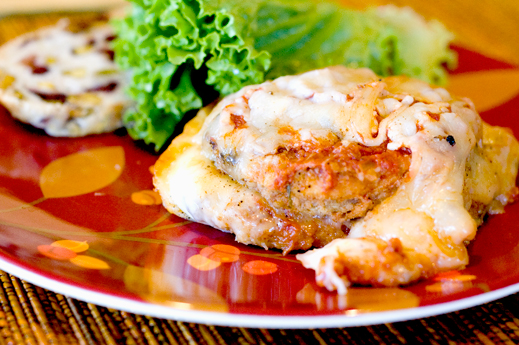 I often read that by committing to one meatless meal per week we can benefit our waistlines, wallets, overall health, animal karma, and/or world peace. Since I am all for world peace I am always on the lookout for meatless meals that my family (read husband) will actually eat and feel satisfied. We aren't big bean eaters so that really complicates the search. Eggplant Parmesan is a great example of a meatless meal that can be easily substituted for it's protein heavy counterpart. Also, allow me to disabuse you of the notion that vegetarian meals are all diet food. Anything that is breaded, fried, then smothered with cheese is going to require portion control.
This dish is delicious: the crunchy breading, the spicy sauce, the melty mozzarella covering it all. I really enjoy the flavor of the eggplant in this dish, but Daddy Chaos would swear it has chicken in it. So don't be afraid to slip this one into regular rotation!
Easy Eggplant Parmesan
serves 6, prep 10 min, cook 30 min
1 large or 2 small eggplants
1-2 cups bread crumbs
1 clove minced garlic or garlic powder
1 tsp minced basil or dry basil leaf
2 eggs, beaten
olive oil
1/4 cup grated Parmesan cheese
2 cups shredded mozzarella, about 8 oz.
1 cup high quality pasta sauce, prepared or store bought, Arrabiata (spicy)
Remove the skin from the eggplants and slice horizontally into disks.
Combine breadcrumbs with garlic and basil. Season with salt and pepper or Italian seasoning or whatever you like.
Dip each eggplant medallion into egg then dredge in breadcrumbs.
Heat a generous amount of oil over medium-high and saute eggplants in batches until golden brown.
Preheat oven to 350°F. Layer a casserole dish with eggplant, sprinkle with 1/2 the Parmesan cheese, 1/2 a cup of pasta sauce then halt the mozzarella. Repeat with remaining ingredients.
Bake for 15 minutes until cheese is melted and bubbly.
This meal is only going to be as good as the sauce you choose for it. Just because you don't feel like making your own sauce doesn't mean you have to settle for Ragu. Many grocery stores have gourmet and imported pasta sauces either on the shelf with the usual stuff or in a special section. Check the top and bottom shelves and look for unfamiliar labels. Also, read the ingredients list-if there's anything you don't recognize or that you wouldn't put in your own pasta sauce (high fructose corn syrup, anyone?) then pick another jar.