August 16th, 2008 by katie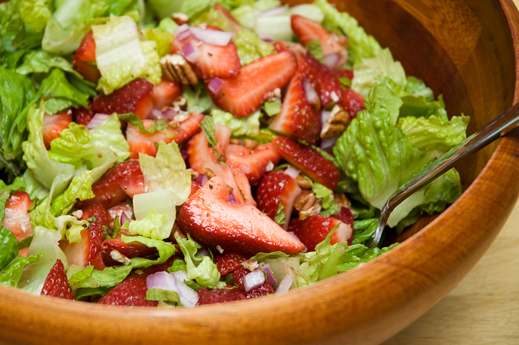 I have never been a "fruit in the salad" kind of girl. Salads are made of vegetables and fruit ingredients seem inappropriate and somewhat suspect. I was surprised and excited then to try this colorful salad at my grandparents' house. Simply consisting of greens, strawberries, and pecans with a light splash of sweet onion dressing it was delicious and refreshing. I have craved it since leaving their house. I finally got the opportunity to make it and it was just as I remembered: slightly sweet with a nice light, tang from the dressing, over cold, crisp salad greens. I have some directions below, but not a concrete recipe. Make as much or as little as you'd like and vary the amounts til you're satisfied.
Strawberry Salad
prep 10 minutes
Several cups of chopped salad greens, I used a combination of romaine and iceberg lettuce for crunch and because that's all I had, Sunny recommended spinach as well
Sliced strawberries
A few tbsp pecans, chopped-I toasted mine as well, thinking there would be a huge flavor difference but there really wasn't.
I chopped everything beforehand and stored them all separately in the fridge then tossed the salad with a couple tablespoons of dressing before serving. My Aunt mentioned that she often makes up a large version of this to take to potlucks. It is easy to store and put together, but quite impressive and different. Thank you again, Sunny, for introducing me to such a delightful, easy salad. I will make it regularly.
We have made this salad over and over!  Our latest version is made with a balsamic vinaigrette and mint, check it out. What's your favorite salad recipe? Are you afraid of fruit in your salads?

Posted in Salads, Sides, Snacks/Appetizers