September 28th, 2009 by katie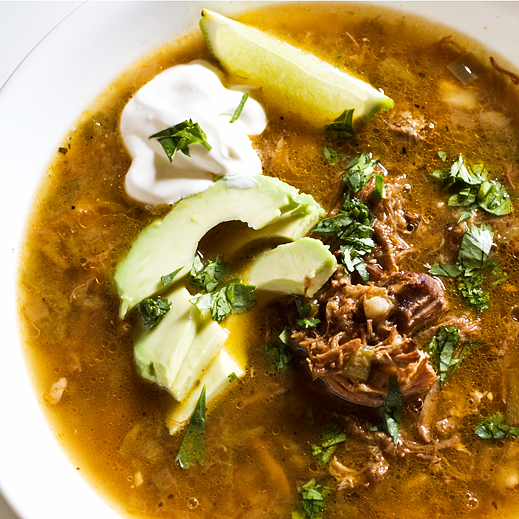 I purposely made extra carnitas last week so that I could make posole as it got cooler.  Posole is a Mexican soup made with pork and hominy that, like tortilla soup, is served covered with bright fresh flavors like cilantro, chopped tomatoes, chopped avocados, cheese, sliced radishes, and sour cream.  You get the deep, hearty flavors of a pork stew paired with creamy, cool, and crisp veggies-customizable any way you like it!
Posole
serves 8, prep 10 min, cook 2 hours (or longer in crock pot), adapted from
Recipezaar
2 tbsp butter or bacon fat
1 large onion, diced
2 cloves garlic, minced
2 jalapenos, seeded and diced
2 tsp cumin
1 tsp oregano
1/2 tsp black pepper
3 cups cooked pork, like carnitas
1 cup roasted green chilies (canned or fresh), diced
2 (15 oz) cans white hominy, drained and rinsed
1-2 qts chicken or pork stock to cover
Melt butter or fat over medium heat and add onion, garlic, jalapeno, and spices.
Saute until veggies are soft.
Add pork, green chilies, and hominy.
Add stock to cover and simmer soup for about 2 hours or until flavors are well combined.
Serve with desired garnishes.
I actually made this in the crockpot by sauteing the veggies then adding everything to the crock pot and cooking on low until we were all home and ready to eat (about 7 hours).  The pork is already cooked and tender so you can cook this as long or as little as you want.  If you want to defat the soup, chill it over night in the fridge then remove the solidified fat from the top and reheat.