May 20th, 2009 by katie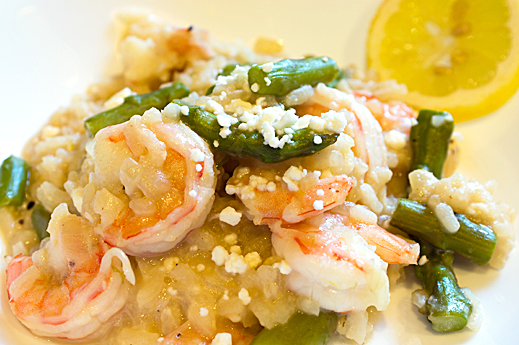 I love shrimp, risotto, and asparagus.  So I knew I would love this dish when I saw it in Gourmet magazine.  This is an excellent example of how frozen shrimp can be an great cheap protein.  Two pounds of frozen shrimp often go on sale here for less than ten dollars: making any shrimp dish a frugal choice.   I added some garlic and feta and served this with a fantastic Greek salad for a delicious, fresh meal.
This risotto is fantastic.  Creamy and satisfying like any risotto but still fresh and light tasting.
Risotto with Shrimp, Asparagus and Lemon
serves 6, prep 10 min, cook 40 min, adapted from
Gourmet, May 2009
3 cups low sodium chicken broth
2 cups water
1 lb asparagus, trimmed and cut into 1 inch pieces
2 tbsp butter
1 small onion, diced
2 cloves garlic, minced
1 1/4 cup Arborio rice
1/4 cup dry white wine*
2 pounds medium shrimp, peeled and deveined
1 tbsp lemon zest
1/4 cup grated Parmesan
1/2 cup crumbled feta
salt and pepper
Combine broth and water in a small sauce pan.  Bring to a boil.
Prepare and ice bath and add asparagus to boiling broth.
Boil for 4 minutes or until crisp tender, then use a slotted spoon to transfer the asparagus to the ice bath. Keep broth at a simmer.
Melt butter over medium heat in a large saucepan.
Saute onion until soft.  Add garlic and saute a minute or two.
Add rice and and cook another minute.  Add wine and simmer, stirring, until absorbed.
Continue adding 1/2 cup of hot broth and stirring until most of broth mixture is absorbed and rice is al dente.
Stir in shrimp, and cook until shrimp curl and turn pink, it only takes a few minutes.
Stir in asparagus, lemon zest, Parmesan and feta, and salt and pepper to taste. Thin risotto with remaining broth as desired.
Cost Analysis:
1 lb asparagus: $1.79
1 1/4 cup Arborio rice: $1.87
2 lb medium shrimp (frozen and thawed): $8.99
1/2 cup crumbled feta: $1.75
Total cost for 6 servings: $14.40 or $2.40 per serving
* Apparently I was going to tell you something about dry white wine, but I forgot.  I like to use really acidic, grassy whites for risotto.  I like Marlborough Sauvignon Blancs: they are Sauvignon Blancs from New Zealand and are always crisp and grassy.  I like Starborough, Kim Crawford, and Whitehaven.