November 21st, 2008 by katie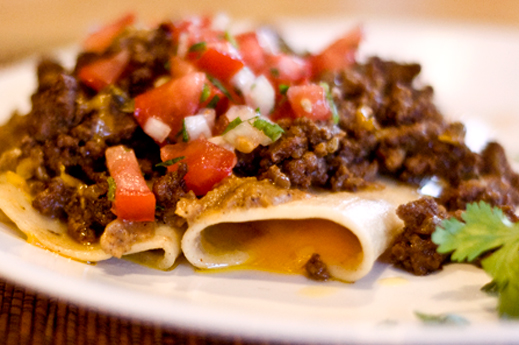 In Texas there are two kinds of of people: born and raised Texans and those of us who got here as soon as we could-like myself. It has been an interesting adjustment, food-wise and otherwise, but one I am so glad to have experienced. Growing up in the Midwest, I thought the Chili's by the mall was Mexican Food. However, down here Mexican Food often means an entirely different thing. Even more confusing is the Tex-Mex spin most foods encounter where they become an entirely independent cuisine that the locals are fiercely loyal to. When I first decided to try my hand at making enchiladas I knew I needed to go to the right source for a recipe. Mr. Chaos is one of those fiercely loyal native Texans who would spot an impostor enchilada a mile away.
So here's the thing about enchiladas in Texas: Everything goes on top! I know, you were thinking: stuff the tortillas with meat and cheese the cover with some more cheese and bake, done! That's not, however, how they make them down here. Here the tortillas are stuffed with cheese and then everything else you want goes on top. But that's not all-because it wouldn't be Texan if it wasn't covered in some kind of gravy. They make a special chili enchilada gravy that covers the enchiladas first. Only then do you get to put your meat and more cheese on top.
Tex-Mex Enchilada Gravy
makes 1 cup, cook time 15 min, adapted from the
Los Barrios Family Cookbook
2 tbsp oil
4 tbsp flour
1 tsp chili powder
1 tsp salt
1/2 tsp cumin
1/2 tsp garlic
1/4 tsp black pepper
1 cup water
Heat oil over medium high in a small sauce pot.
Sprinkle flour over and stir, cook until flour is golden and toasted.
Stir in spices and cook until dark but not burned.
Stir in water and lower heat to boil gently for 15 minutes.
Once you've made the gravy the construction is very easy. Dip corn tortillas in hot oil, being careful not to tear them. Let the oil run off, place them on a paper towel lined plate and sprinkle your cheese down the middle. Roll the tortilla up and place seam side down in a large baking dish. The hot oil should have made your corn tortilla warm and pliable without making it fall apart or tear when you try to roll it. You can use any good melting cheese you like or a combination-Asadero, Sharp Cheddar, Monterrey Jack, and Queso Fresco all work great.
Once you've filled your baking dish with cheese stuffed tortillas, spread the gravy evenly over the top. Then top with your favorite taco meat: spicy shredded chicken, pulled pork or taco beef (ground beef). When you make the taco meat make it a little saucier than you normally would-maybe using a 1/2 cup of water with the spices instead of a 1/4 cup. Then cover with additional shredded cheese.
Bake your enchiladas for about 10 minutes at 350°F until the cheese is melted. I like to top it again with fresh pico de gallo, because all that heavy meat and cheese needs something a little bright and fresh to contrast with.
Enchiladas can be a great fast meal, even if they sound labor intensive. Next time you make tacos, make extra meat and put it aside in the freezer. Or double the enchiladas on a weekend and place one dish in the freezer while you bake the other. In a few weeks simply thaw it in the fridge and pop it in the oven for a fast, fresh enchilada dinner.