April 6th, 2009 by katie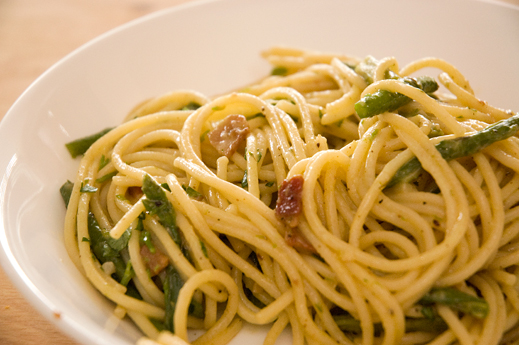 Now before anyone freaks out, this meal isn't meatless as in vegetarian.  Carbonara uses bacon, eggs, and cheese to create a rich, filling pasta dish without relying on a more expensive protein source.  This was my first time trying it and now I know why this dish is so popular!  It is such an easy and fast meal as well as luxurious and satisfying.
One of the ways to keep grocery costs low is to buy seasonal fruits and vegetables.  Asparagus and strawberries are coming into season and can be gotten for a good price at the grocery store.   The addition of asparagus spears keeps this pasta from feeling too heavy but it still needs a nice light salad as an accompaniment.  I served it with a Strawberry Salad, one of my favorite sweet and tangy salads.
Asparagus Carbonara
serve 6, prep 10 min, cook 10 min
1 lb asparagus spears
1 lb spaghetti noodles
2 tbsp olive oil
4 oz bacon, chopped
4 cloves garlic, minced
2 eggs
1 cup grated Parmesan cheese
1/2 cup pasta water
fresh ground pepper
Wash and chop the asparagus spears into 1 inch pieces.  Steam or boil for about 5 minutes or until tender.
Bring a large pot of water to a boil and add several tablespoons of salt.  Add noodles and cook til al dente while preparing sauce.  Do not allow noodles to cool since their heat is needed to cook the egg sauce.
While noodles are cooking, heat oil and saute bacon pieces until crisp.  Add drained asparagus spears and garlic and cook until soft, while noodles finish.
Whisk together the eggs, cheese, and 1/4 cup of water from your pasta pot while stirring constantly to temper (warm up) the eggs without cooking them.
Add hot noodles to hot skillet and coat in bacon fat.
Stirring quickly to coat, add egg mixture to hot noodles.
The eggs and cheese will thin and create a velvety sauce that coats the noodles.  Stir in more pasta water if you want it saucier.
Add fresh ground black pepper to taste and serve fresh and hot.
Cost Analysis:
1 lb asparagus: $0.94
4 oz bacon: $0.75
2 local cage-free eggs: $0.37
1 lb healthy carb spaghetti: $0.25 ($1.25 -$1 coupon)
3 oz Parmesan cheese: $2.02
Total cost for 6 servings: $5.43 or 91¢ per serving
6 cups organic lettuce spring mix: $3.99
1/2 sweet Texas onion: $0.13
8 oz strawberries: $0.75
1 oz pecans: $0.56
Total cost for 6 servings: $4.33 or 72¢ per serving
Total cost for meal: $9.76 or $1.63 per serving
I have submitted this one to Michelle at Thursday Night Smackdown for Hobo Mondays.  Go there for more cheap food!