April 8th, 2009 by katie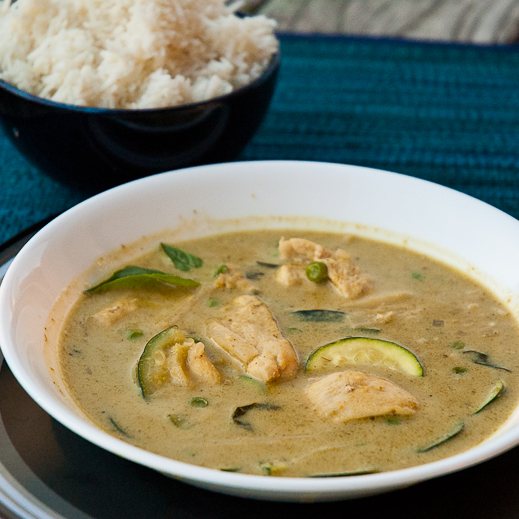 So, we aren't exactly curry people.  As in, we don't do curry.  We don't like it and we don't eat it.  Or at least that's what we've been telling ourselves for years.  Then mrChaos ordered the green curry at our local thai place on a whim and after fighting over the leftovers we decided that maybe we are curry people after all-or at least this curry.  The ingredients listed for this dish were simple and nonthreatening: chicken, zucchini, bamboo shoots, peas, basil, and coconut milk.  The sauce was creamy and slightly sweet with the fresh scent of ginger and lemon grass.  It didn't look too hard and I was craving it again almost immediately, so I set out to make it at home.  A search of the internet for "thai green curry" yielded lots of recipes containing exotic ingredients like galangal, keffir limes, and lemon grass.  Ingredients that looked amazingly flavorful but that I knew would be difficult to find in my local suburban grocery stores.
So I did what I always do when I want to make a cultural recipe that is unfamiliar-I go to the source.  Houston is a multicultural hub and I happen to work with many people from all over the world.  My coworker told me how she makes it for her family, using typical grocery store ingredients.  It sounded easy and simple and after picking up some coconut milk and green curry paste I was ready to go.
The flavor of our curry was spot on if just not as bright tasting as the original.  The success of this recipe will depend a lot on your curry paste so use the best you can find.  I would love to make my own curry paste one day soon but for now I will be playing around with this recipe.  It is a good, quick "curry in a hurry" even if it is not completely authentic or exotic.
Thai Green Curry in a Hurry
serves 4, prep 20 minutes, cook 20 min
2 tbsp olive oil
1 lb chicken breasts, trimmed and cut into bite-sized pieces
1 small piece (about 2 inch) ginger, grated
2 cloves garlic, minced
1/2 large onion, diced
1-2 tbsp green curry paste (depends how hot you like it, start small and taste!)
1 can (15 oz) coconut milk
2 tbsp fish sauce
2 tbsp brown sugar
5 large basil leaves, chopped
3 small zucchini, julienned
1/3 cup bamboo shoots, julienned
1/2 cup frozen peas
Heat oil to medium high and add chicken, onion, garlic, ginger, and curry paste.
Saute lightly until veggies are warm, then add coconut milk, fish sauce and sugar, bring to a simmer.
When chicken is cooked through (about 10 minutes), add basil, zucchini, bamboo shoots, and peas.
Cook until veggies are tender and correct seasoning as desired with salt, sugar, or more curry paste.
Serve over rice.
Cost Analysis:
1 lb all-natural chicken: $3.99
1 can coconut milk: $1.79
3 zucchini: $1.46
1 can bamboo shoots: $1.09
1 tbsp Thai green curry paste: $0.34 (all the grocery stores around here have Thai Kitchen brand but I prefer Mae Ploy)
Total Cost for 4 servings: $8.67 or $2.17 per serving
Updated We make this curry all of the time!  It is so quick and comforting.  You can use whatever vegetables you like and substitute shrimp or white fish for the chicken.  I especially love it with Cod!