October 10th, 2008 by katie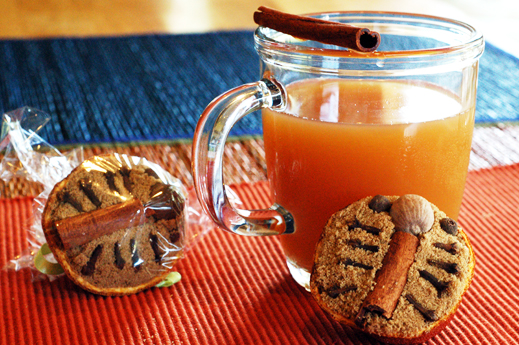 Did I mention that I LOVE fall?  Yes?  Ok, did I mention apples?  How much I LOVE apples? Yes, again?  Well then this one shouldn't surprise you. I LOVE apple cider.  On chilly fall nights, I love it more than an espresso or hot chocolate.  It's October and we're far from chilly nights but it is time to start planning the holidays and what kinds of fun food gifts we'll be making en masse for friends and family.
I make my own apple cider about once or twice a fall-from apples boiled for hours with spices then crushed and strained.  But sometimes we need a quicker solution.  Cider Beetles are the best!  Seriously, I get all giddy just thinking about them.  With hints of orange, nutmeg, allspice and cloves, combined with brown sugar and cinnamon, you simply drop them into a pot of boiling apple juice and simmer for 30 minutes for some awesome apple cider and a house that smells like all the best parts of the fall.  Add some brandy and you've got a great party drink!  The best part is they make the cutest gifts-combined with a bottle of apple juice-for a hostess or teacher.
Making cider beetles is one of my favorite Fall/Winter traditions, one I have let fall by the wayside in busy years in the past.  That's going to change starting this year.  They are also easy and fun to make and kids can pretty much make them all on their own, minus the oven part.  These beetles are also super cheap if you utilize a bulk spice retailer.
Cider Beetles
makes 12 beetles, prep 30 min, cook time 2 hours
6 oranges
approx 6 cups firmly packed brown sugar, depends on the size of your oranges
12 small cinnamon sticks
12 small whole nutmegs
24 whole allspice
96 whole cloves
Slice oranges in half and scoop out the flesh without breaking through the orange rind.
Crumble sheets of foil into small balls to fill out your orange halves.
Place orange halves cut side up, like a bowl, on a wire rack on a baking sheet. Bake at 250°F for 2 hours or until dry and hard.
Once oranges have cooled, pack brown sugar firmly into each orange half, mounding slightly.
Arrange spices in the brown sugar to resemble beetles: use a cinnamon stick as the body, a nutmeg for the head, 2 allspice on each side of the head for eyes, and 6-8 cloves arranged as the legs/feet.
Wrap tightly in plastic wrap.
Directions for use, attach to gift beetles on decorative card:
Unwrap cider beetle and drop into 1 1/2 quarts apple juice or cider. Simmer for 30 min. Strain out whole spices and orange rind from cider to serve. May add 1/2 cup of brandy, and heat well. Store left over cider in the refrigerator.
You can also make Cider Reindeer by using the nutmeg as the head, allspice for ears and arrange the cloves into antlers. I would hide the cinnamon stick inside the orange half and cover with brown sugar. Really cute? Use one of those cinnamon candies for a red nose!


Posted in Budget, Cooking with Kids, Drinks, Easy, Things I Love