May 16th, 2008 by katie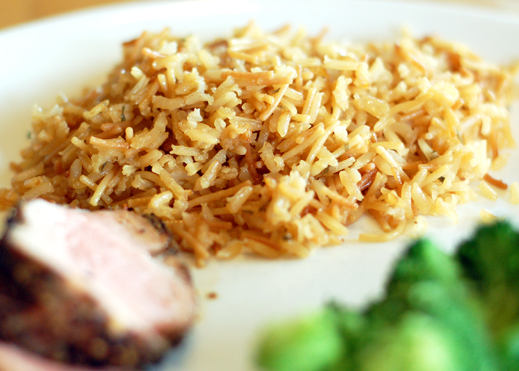 This is our standard rice side for those meals that need something a little more interesting than plain white rice. It takes no more time than the boxed stuff and only a teeny bit more effort (teeny as in you have to find your bottle of parsley flakes in the back of the spice cabinet). I really really want to make this with those little star pastas you put in soup. I think the kids would love it.
Homemade Rice-a-Roni or Rice Pilaf
Serves 6, Prep: 5 min, Cook: 15 min
¾ cup long grain white rice
½ cup small pasta shape, like broken fideo, spaghetti, angel hair, etc…
1-3 tbsp butter, depends how much fat you want, I usually use a tbsp of Better Butter
14 oz no fat, low sodium chicken broth
1 tsp low sodium chicken base
1 tsp dried parsley flakes
½ tsp garlic powder
salt and pepper to taste
Preparation is the same as stated on the box of Rice-a-Roni. Melt the butter in a pan and saute the rice and pasta until lightly browned.
Add the chicken broth, base, parsley and garlic. Add any other seasonings if you would like.
Bring to a boil and cover, then reduce heat to low. Cook 15 minutes without lifting lid.
After 15 minutes check to see if all liquid has been absorbed and fluff rice with a fork. If the rice is tender but it is still a little wet just let it sit on low with the lid off for a few minutes.
This is a great side because it takes care of itself on the back burner while you make the main dish and veggies.  It is also handy and convenient to keep these ingredients in your pantry-ensuring you are always prepared to whip up a side even when you haven't thought past the main dish.

Posted in Budget, Easy, Health/Nutrition, Sides