March 22nd, 2015 by katie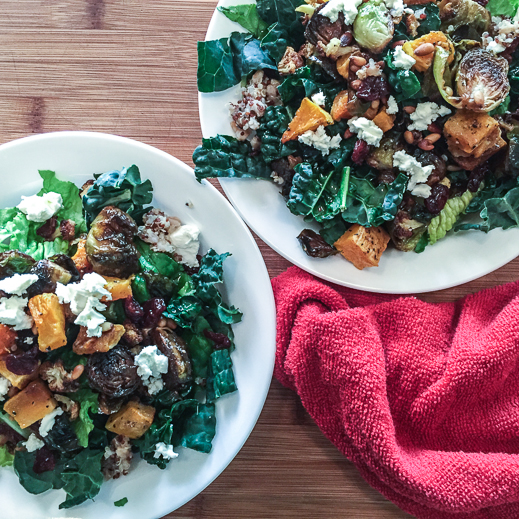 Hurry!  Any minute it will be blazing, sweltering, too-hot-to-even-look-at-the-stove and you will have missed the narrow window where both roasted winter vegetables and the freshness of a spring salad can intermingle.  There is so much going on in this dish its a shame to qualify it as "just a salad."  It is a platefull of superfoods, a medley of textures, hearty but health conscious.  Make everything at once and enjoy for dinner or take your time and store each component in the fridge for amazing desk lunches all week.  
Quinoa and Farro with Roasted Vegetables, Kale and Goat Cheese
serves 6, prep 20 min, cook 40 min
1 head cauliflower, separated into bite-sized florets
1 lb brussels sprouts, trimmed and halved
1 small butternut squash, diced
olive oil
cracked black pepper
salt, to taste
1 cup quinoa
1 cup farro
3 1/2 cups water
1/4 cup dried cranberries or sour cherries
1/4 cup pine nuts, pepitas, or chopped almonds, toasted and salted
1 bunch lacinato kale, cut into ribbons
1 head romaine lettuce, chopped
1/4 cup dried cranberries or sour cherries
1/4 cup pine nuts, pepitas, or chopped almonds, toasted and salted
2 oz fresh goat cheese
3 tbsp oil
2 tbsp lemon juice
Roast the vegetables:  Preheat oven to 425°F.  Cover two large rimmed baking sheets with foil if desired.  Cover with cauliflower florets, brussels sprouts halves, and diced butternut squash.  Sprinkle all over with oil, salt and fresh cracked pepper.  Place baking sheets in the oven and bake for approximately 30-40 minutes or until vegetables are tender and browned.  Allow to cool.
Make the quinoa and farro: Combine quinoa, farro, water, and several large pinches of salt in a medium saucepan with a lid.  Bring to a boil, cover and turn the heat to low.  Cook 20 minutes.  Turn off heat and allow grains to sit covered for an additional 10 minutes.  Removed lid and fluff with a fork. Allow to cool.
To build salads: Place approximately 1/2 cup of grains in the bottom of a bowl or salad plate.  Top with a combination of romaine and kale.  Top greens with some of the roasted vegetables and the sprinkle on cranberries and nuts to taste.  Using two forks, drop several small dollops of fresh goat cheese on top.  At this point you can proceed with dressing and serve or place in an airtight container and refrigerate for the next day.
Make dressing:  Whisk together oil and lemon juice and season with salt and pepper to taste.  Sprinkle dressing lightly over each salad to serve.