February 3rd, 2009 by katie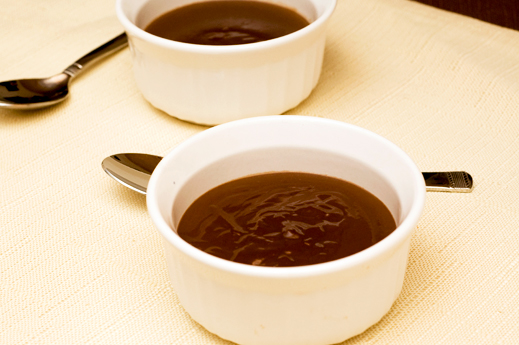 I have been having a chocolate pudding craving lately.  I love Swiss Miss puddings but none of the stores in my area carry them any more.  I just don't think any of the other store bought puddings are as rich and smooth.  I experimented with this chocolate pudding and it didn't tun out very well-it is definitely meant to be a vanilla base.  So my second try was an adaptation of Gundy's Chocolate Pie filling from my friend Kelly's mom.  It turned out perfectly, rich and chocolately and smooth.  Thanks again Jan, I love this recipe!
I decreased the flour by a tablespoon so it would be a little thinner than pie filling and I increased the chocolate by a tablespoon because I thought my aging cocoa powder needed a little boost.  Essentially it is the same as the pie recipe only no pie crust involved.  The best part: I did successfully make it in one pot, without having to temper the eggs like my lemon pie.
Chocolate Pudding
makes 3 cups, cook time 15 min, adapted from
Gundy's Chocolate Pie
2 tbsp butter
2 cups milk
3 egg yolks
3/4 cup sugar
1/4 tsp salt
4 tbsp flour
4 tbsp cocoa powder
2 tsp vanilla
In a medium pot with out heat combine all ingredients except vanilla.
Whisk ingredients in combine and turn on heat to medium high.
Whisk mixture constantly as it thickens, do not boil.
Once mixture is thick about 10 to 15 min, remove from heat and stir in vanilla.
Pour into individual pudding cups, cover and chill.
Pudding will form a slight skin so press plastic wrap against the surface if pudding skin bothers you.
Yum, delicious chocolate pudding!  Perfect for lunchboxes or an after dinner treat.