September 15th, 2009 by katie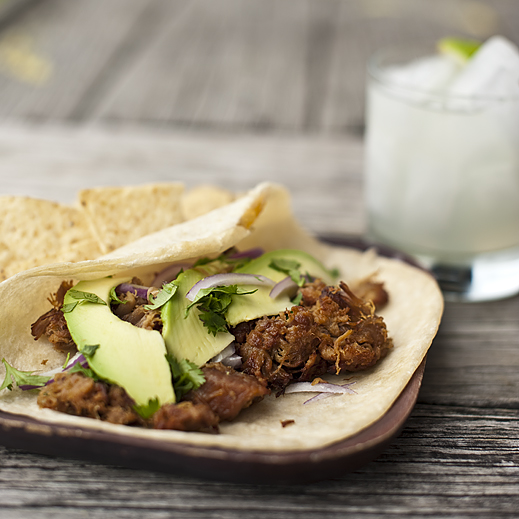 We love a good taco or fajita but skirt steak can be expensive and even ground beef is too when you're feeding a crowd.  Since you can get three pounds of boneless pork shoulder meat for only $5, I decided to try making carnitas for our last get together.  They turned out great and everyone really liked the change.
Carnitas
serves 6, prep 10 min, cook time 3-4 hours
3 pounds pork shoulder (butt) roast
1 cup orange juice
6 cloves garlic
1 tbsp kosher salt
water to cover
Cut pork shoulder in pieces and arrange in a large cast iron pan or skillet.  You want a pan you can cover at least partially and is large enough at the base so the meat is in a single layer (or close to).
Add the garlic, salt, orange juice, and enough water to just cover the meat.
Bring the mixture to a boil and cover loosely.
Allow meat to simmer until tender and liquid is evaporated.  If liquid evaporates and the pork in not yet fork tender, add more liquid and continue to simmer.
Once the liquid evaporates and the pork is tender, there should be rendered fat in the pan.  Break the meat up into small chunks with a fork.
Turn heat to medium and fry the meat until brown and crispy.
Alternately, you can transfer the meat and fat to a sheet pan and roast briefly in a 400°F oven for about 30 min, stirring after 15 minutes.
A shout out to mrChaos:  many of the photos on chaos in the kitchen are so amazing because mrChaos takes the time to shoot and/or process them.  Between the cooking, serving, eating, feeding kids, cleaning up, bath time, food styling, food photography, and photo processing, we work as a team to get it all done.  He's your typical modest guy and has contributed anonymously, but I think he has become a pretty fantastic photographer and deserves some cred.   He is a humble guy, however, and would tell me that I don't know what I am talking about.  So how about we show him some love in the comments?  You can see some of his work here, here, here, here, here, and here.