August 5th, 2009 by katie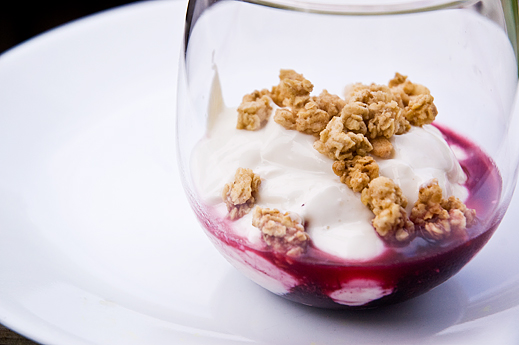 Anyone who knows me knows that I eat a lot.  I eat often throughout the day to keep my energy up and the headaches away, and so I try to eat relatively small meals and snacks when I do.  For example, Breakfast can stretch over four hours.  I wake up and have a latte.  An hours or so later when I start to feel hungry I eat a banana.  Another hour or so later I eat this little yogurt parfait.  A few hours after that it's lunch time and so on…
I haven't posted this before because it is barely a recipe.  I use a less sweetened version of my dessert berry topping, my favorite yogurt, and a crunchy topping-voila! Yogurt Parfait.  This breakfast actually evolved from an attempt to add more fruit and vegetable servings to my overall day.  Instead of eating yogurt alone, I started adding the frozen berries and a little fiberific crunchy contrast.
Buy a bag of frozen mixed berries (I buy the organic since they are so much cheaper than fresh organic berries) place them in a seal-able container and sprinkle 2 tbsp to 1/4 cup of sugar over (no need to thaw).  You can leave them on the counter and they will start to thaw and produce juices in about an hour or you can pop them in the fridge and they'll be ready to go in the morning.
Next I use 0% fat Greek yogurt.  I like the Greek yogurt because it is thick and custardy while still being fat-free, also the amount of protein per serving is much higher than regular yogurt.  It also has less sugar.  I like to use either plain yogurt or vanilla flavored, mrChaos prefers the vanilla.  I add about two tablespoons but you can control the sweetness of your parfait either by adding more or less berries and juices or more heavily sweetening the berries.
On top I usually sprinkle about two tablespoons of grape-nuts, crunchy granola or even a crushed granola bar in a pinch.  Just watch your topping since this is where the calories can really come in.
The end result is a healthy breakfast that feels like a special treat.  The berries will keep in the fridge for about a week and I get about 6-8 breakfasts from a 10 ounce bag.  They will continue to produce juices as they are sitting so they can be stretched pretty far.
My baby loves it too! 🙂