February 13th, 2009 by katie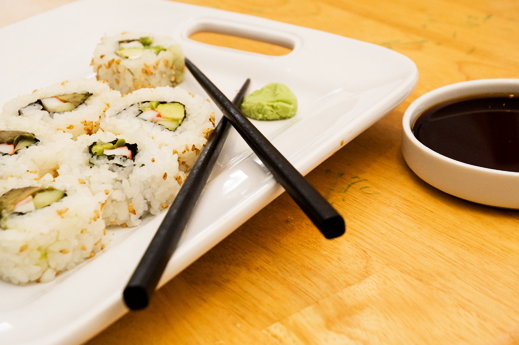 In college, I had friends who made sushi at home.  I was impressed by their audacity but not their sushi.  It didn't taste like restaurant sushi-the rice was far too tart and vinegary-and so I never felt any overwhelming desire to try it myself.  I just figured sushi was beyond us mortals and put it from my mind.  However, recently there have been several enticing sushi posts circling the food blogosphere and my interest was peaked.
I knew it was going to be difficult and complicated so I went for simple: California Rolls.  I looked through various recipes for sushi rice and decided to wing it.  The result was delicious and flavorful sushi rice.  And once the rice was done the actual sushi rolls went so quickly and easily I started looking for more ingredients to play with.  We finally settled on a spicy California Roll with the addition of spicy mayo, jalapeno and cream cheese.
Sushi Rice
makes enough for about 6 rolls, prep 5 min, cook time 15 min
2 cups sushi rice (short-grain white rice)
2 cups water
2 tbsp rice wine vinegar
1 tbsp sugar
2 tsp white wine
1/2 tsp salt
I combined equal parts rice and water in my rice cooker and pushed the button.  I'm sorry but I didn't want to leave anything to chance this time.
Combine vinegar through salt.
Once your sushi rice is cooked pour the vinegar mixture over and stir and toss until thoroughly combined.
We started with the classic California Rolls: fake crab, cucumber, and avocado rolled up in a half sheet of nori with the rice on the outside and then rolled in sesame seeds.  The sushi rice is extremely sticky so I wore gloves coated in olive oil to pat it onto the nori sheets.  I flipped the sheet and rice over to make an inside out roll (our favorite).  Then I placed thin strips of the crab, cucumber and avocado in the center and used the sushi mat to roll the whole thing up.  A sprinkle of sesame seeds and the California rolls were perfect.
In fact it was so easy that the California Rolls I had planned quickly became almost boring in their simplicity.  So, I decided to spice things up with some spicy mayo and jalapenos.
Spicy Mayo
2 tbsp mayonnaise
1 tsp Asian hot sauce
Combine mayo and hot sauce.
To the spicy rolls we added thinly sliced jalapenos, avocado, the crab, cream cheese, and a smear of spicy mayo.  We really liked the spicy roll combination and now that I know how easy it is I want to experiment with different fish-ahi tuna, smoked salmon, shrimp-and using the fryer to make some tempura rolls etc…

Posted in Condiments, Easy, Main Dish