October 6th, 2008 by katie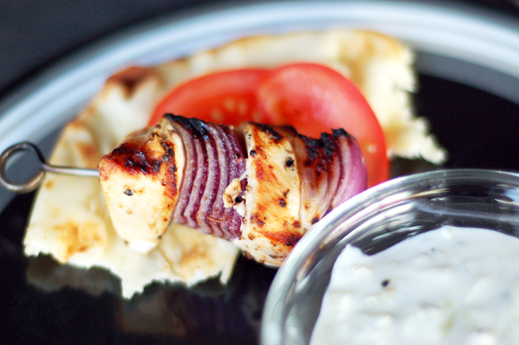 We love mediterranean food. Besides being light and healthy, the recipes are bursting with natural, fresh flavors. Plus most dishes come together quickly and easily-so they're great for weeknights.
When we first met, Daddy Chaos was a self-proclaimed vegetable hater. He was very much a meat and potatoes (mashed or french fries only, please) kind of guy. We've come a long way since those days, and one of the first meals I made that broke the barrier was homemade gyros with tzatziki, fresh tomato slices, and red onions. I'll post the gyros recipe in the future, but chicken souvlaki is essentially the same meal at our house except using marinaded chicken in place of lamb.
If you're not familiar with souvlaki or tzatziki let me introduce you. I am not Greek, nor have I wikipedia-ed souvlaki so this is my interpretation-feel free to add your thoughts in the comments. I have seen souvlaki made from either chicken or pork but it is generally just cubes of meat marinaded primarily in lemon juice, olive oil and spices, then skewered and grilled, and served with warm flat bread. It can be eaten like a sandwich with toppings of cucumbers, red peppers, tomatoes, onions, or a pickle relish. In addition, a creamy yogurt and cucumber sauce-tzatziki-is served as well. The flavors are bright and fresh but also recognizable. Many people have probably had a similar dish by a different name and never known of its mediterranean roots. To further broaden the uses of this delicious marinade you could also use it on any combination of chicken pieces or pork chops. The tzatziki is flavorful yet cooling-made creamy and tangy from the yogurt but I have also seen it made with sour cream. It would go fabulously with blackened chicken or any ultra-spicy dish as well.
Chicken Souvlaki-Greek Marinade
serves 4, prep 10min, cook time 10min, marinade time 2 hours
1lb chicken pieces (we use boneless, skinless breasts on skewers)
1/4-1/2 cup lemon juice
1/4 cup olive oil
2 tsp Greek oregano
1 tsp salt
1/2 tsp black pepper
1/4 cup water
Combine all ingredients and marinade chicken pieces at least 2 hours or longer for more intense flavor.
Grill chicken over a high flame until juices run clear.
Serve! For souvlaki, serve with pita or flat bread, red onion, tomatoes and tzatziki sauce.
Tzatziki Sauce
makes 2 1/2 cups, prep 10 min, chill before serving
2 cups thick style Greek yogurt
1 cucumber, peeled, seeded, and grated
1 clove garlic, minced
2 tbsp olive oil
1 tbsp red wine vinegar or lemon juice
salt and pepper
Combine all ingredients, chill.
This is also great with some dill added, or grated onion. If using regular yogurt, strain it overnight through a coffee filter until thick and creamy. Although, if you can't find Greek yogurt I'd almost rather you use sour cream. Just don't settle for runny, watery tzatziki!

Posted in Condiments, Easy, Fast, Main Dish, Things I Love