November 17th, 2008 by katie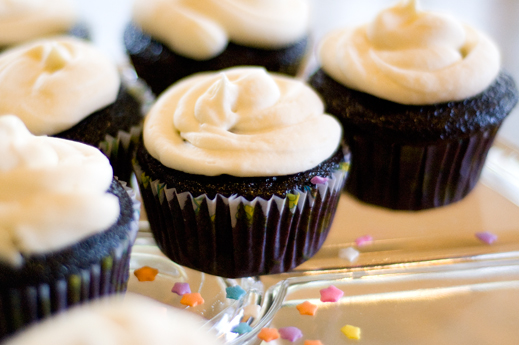 Ever since I saw this post at Pinch My Salt a few weeks ago, I knew I had to try a chocolate stout cake. I am not a huge sweet fan (I know you could tell) but there was something about combining rich, dark chocolate and creamy, malty stout beer that I knew would be incredible.
And it was, let me tell you. Deep and complex chocolate flavor without the sugary sweetness found in many chocolate cakes. The cake is moist and delicate and not too sweet. There is no bitterness or hoppiness from the beer, just rich dark chocolate flavor. It's no sickly sweet, need a glass of milk cake, for sure. These are earthy, dark, have with a mug of black coffee cupcakes.
This recipe makes a ton and is originally intended to make a large three layer cake. I made cupcakes-because I wanted to be able to give most of it away (lest I not fit into my pants). I made exactly 4 dozen cupcakes or approximately 12 cups of batter. It is difficult to measure exactly because I actually dug in with a spoon for a bit while the first batch was baking. I mean, seriously, it is incredible.
Chocolate Stout Cupcakes
makes 48 cupcakes, prep time 10 min, cook time 40 min, adapted from
Bon Apétit, September 2002

2 cups stout ( I used Young's Double Chocolate Stout, you can also use Guinness)
2 cups (4 sticks) unsalted butter
1 1/2 cups unsweetened Dutch-process cocoa powder
4 cups all purpose flour
4 cups sugar
1 tablespoon baking soda
1 1/2 teaspoons salt
4 large eggs
1 1/3 cups sour cream
Preheat oven to 350°F. Prepare cupcake or cake pans as desired.
Bring beer and butter to a simmer, stir in cocoa powder until smooth. Remove from heat.
Combine flour, sugar, baking soda and salt in a large bowl.
In a large mixing bowl (12+ cups!) beat together eggs and sour cream.
Slowly pour in chocolate mixture. As any time you are adding a hot liquid to eggs, dribble it in very slowly at first so you do not curdle your eggs.
Beat to combine then stir in flour mixture, scraping sides and ensuring batter is well mixed.
Pour batter evenly into lined cupcake pans and bake for approximately 15 minutes or until a tester comes out clean.
Allow cupcakes to cool completely before frosting.
I frosted these with a cream cheese and kahlua buttercream which didn't impress me much. Next time I think I would prefer a simple whipped cream or ganache topping.  Here is the recipe reduced to 1 dozen cupcakes (with chocolate ganache) and here is my favorite vanilla bean cream cheese frosting (also go here to see how I learned to make pretty frosting swirls).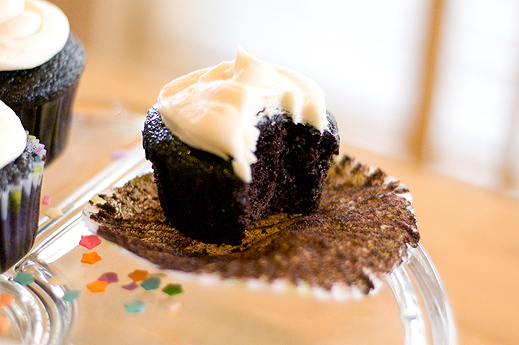 Posted in Desserts