December 6th, 2009 by katie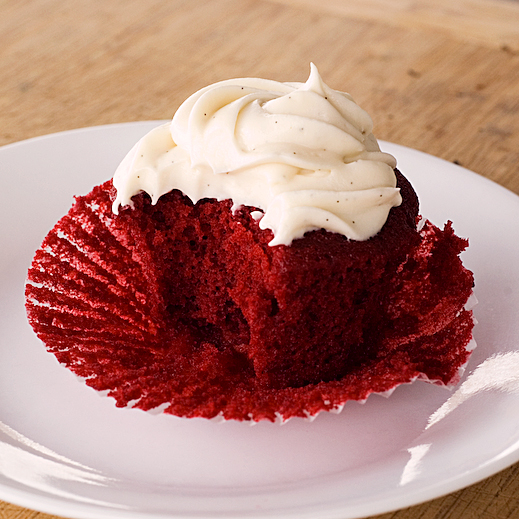 Red Velvet cake is such a celebratory dessert.  I think it is the tangy buttermilk cake, the decedent frosting, and, of course, the totally outrageous color.  I made these cupcake for mrChaos's sister on her birthday and they were absolutely wonderful.  If you aren't afraid of a little Red #40 you will definitely impress a few party guests over the holidays with these.
This is a good recipe to make when you need a huge batch of cupcakes.  I generally shoot for filling my cupcake liners about 3/4 of the way and I got 42 cupcakes.
Magnolia's Red Velvet Cake
makes 1 3 layer round cake or 40+ cupcakes, prep 15 min, bake 40 min, adapted from
More From Magnolia: Recipes From The World-Famous Bakery and Magnolia's Home Kitchen
3 1/2 cups cake flour
3/4 cup (1 1/2 sticks) unsalted butter, softened
2 cups sugar
3 large eggs, at room temperature
6 tbsp or 3 oz (3 bottles) red food coloring
3 tablespoons unsweetened cocoa
1 1/2 teaspoons vanilla extract
1 1/2 teaspoons salt
1 1/2 cups buttermilk
1 1/2 teaspoons cider vinegar
1 1/2 teaspoons baking soda
Preheat oven to 350°F. Grease and lightly flour three 9- by 2-inch round cake pans, then line the bottoms with waxed paper or line a 12 cupcake pan with paper liners.

Sift the cake flour into a bowl. Normally I would skip this but cake flour tends to clump so, do it.  I use a mesh colander rather than a sifter.

In a large bowl, beat together butter and sugar until very light and fluffy.

Add the eggs, one at a time, beating well after each addition.

In a small bowl, whisk together the red food coloring, cocoa, and vanilla. If the mixture isn't combining set it aside for a minute then re-whisk.  Add to the batter and beat well.

In a measuring cup, stir the salt into the buttermilk. Add to the batter in three parts alternating with the flour. With each addition, beat until the ingredients are just incorporated.

In a small bowl, stir together the cider vinegar and baking soda. Add to the batter and mix well. Using a rubber spatula, scrape down the batter in the bowl, making sure the ingredients are well blended and the batter is smooth.

Divide the batter among the prepared pans. Bake for 30-40 minutes, or until a cake tester inserted in the center of the cake comes out clean. Let the layers cool in the pans for 1 hour. Remove from the pans and cool completely on a wire rack.  For cupcakes bake approximately 15-20 minutes, fitting two pans in the oven at once on the top third and lower third.  Rotate the pans after 10 minutes and check for doneness with a toothpick after 15 minutes.
The frosting is a double batch of my very favorite Vanilla Bean Cream Cheese Frosting.

Posted in Desserts