June 19th, 2009 by katie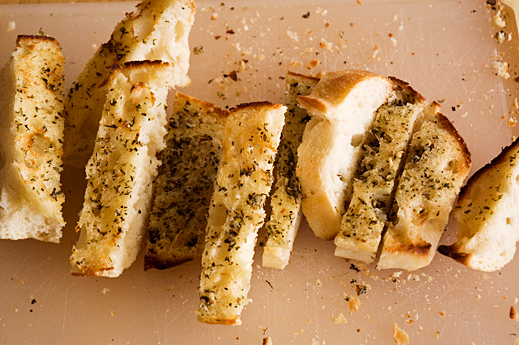 Just a quick one before the weekend.  We had spaghetti and meatballs last night which is a family favorite and one of those meals that requires a good crusty, buttery hunk of bread.
Garlic Bread
makes 1 loaf, prep 5 min, cook 15 min
Preheat oven to 400°F.
Slice loaf of bread in half horizontally.
Spread one side with softened butter.
In a small bowl, combine oil, garlic, and herbs.
Spread the other side of the bread with garlic mixture.
Close bread and wrap in foil.
Bake for 10-15 or until hot and steamy.
If desired, separate loaf and position cut sides up on a baking sheet under the broiler.
Broil until toasted and crunchy. Watch it carefully! I can't tell you how many loaves of garlic bread I have burnt to cinders.
A tip for those of you who make and freeze spaghetti sauce, the garlic bread can also be made ahead of time up to the point of baking it.  Just spread it with the butter and garlic, then wrap tightly and freeze.  You can reheat straight from the freezer (it will take a little longer to warm all the way through).
That's it, have a great weekend!  Happy Father's Day, dads!
Last year, Father's Day: Top Sirloin with Red Wine Sauce