November 10th, 2009 by katie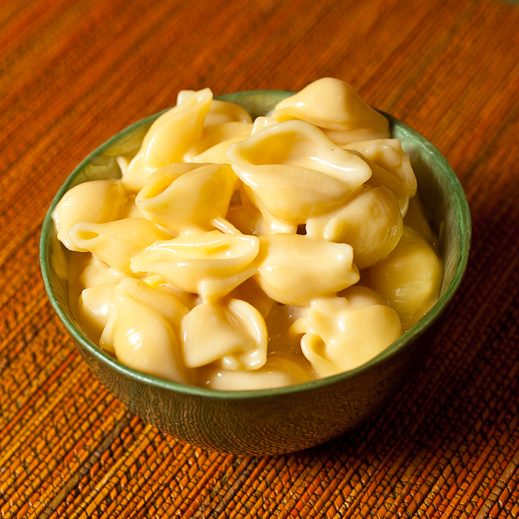 Despite all my efforts, my kids are just like all kids.  They could happily subside on hot dogs and macaroni and cheese forever.  When I make chicken nuggets from scratch, they eat them but complain most of the time that they like the "other kind" better.  While macaroni and cheese isn't something I want to eat a ton of, sometimes it is nice to have a meal end with clean plates and full bellies.  I always serve this with some broccoli on the side and occasionally an extra salad or corn bread for the grown-ups.
Macaroni and Cheese
serves 6, prep 10 min, cook 20 min
16 oz small shell pasta, or elbows or any other pasta shape you like
4 tbsp butter
1/4 cup flour
2 1/4 cups low-fat milk
1 lb deli American cheese, grated
salt
Bring a large pot of water to a rolling boil.
Add a sprinkle of salt and your noodles.
Melt butter over medium heat in a large skillet.
Sprinkle flour over, stir and cook for several minutes.
When butter and flour have cooked several minutes and the mixture is golden brown and bubbly, stir in milk.
Stir and cook until smooth and thick.  Season with salt to taste.  You can also add mustard, cayenne, Tabasco, lemon pepper, etc.. to taste at this point.
Stir in cheese until smooth and fully combined.
Drain cooked noodles, stir into hot sauce.  Serve.
American cheese is creamy and mild and melts wonderfully.  I buy a block of it from the deli which is the least processed version, I don't recommend using sliced American cheese.  If you don't have a source of good deli American cheese then I would recommend going with a mild cheddar.  Finally, I always have both 1% and whole milk in the house and I have made this with both and there is no difference between the two, so use what you like!

Posted in Cooking with Kids, Easy, Fast, Main Dish, Pantry Challenge, Sides