October 26th, 2008 by katie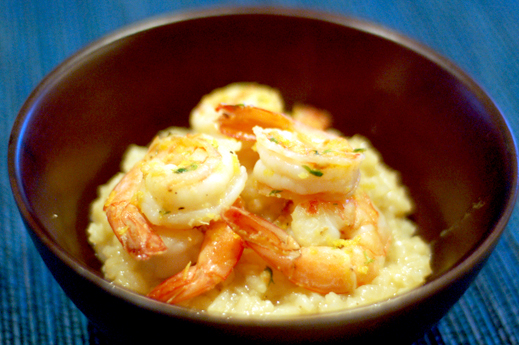 Risotto is not a childhood food for Mr. Chaos or me, but it has become a comfort food. Years ago, after a disastrous first attempt, risotto was put on the cannot cook list and forgotten. However, since giving it a try at restaurants and understanding what it's supposed to taste like, we gave it another chance. One thing I have learned-comparing the risotto I make now with that first ill-fated attempt-is that the type of rice matters. My first attempt at risotto was with regular long-grain rice because someone had told me it would work fine. Well, that person apparently doesn't know what risotto is supposed to taste like because it doesn't work at all. You need to use Arborio or medium grain rice. I have also seen it simply labelled "Risotto Rice." I am sorry.  I was wrong.  See my update here.
The great thing about risotto is you can make it any way you like. Add chopped, sauteed mushrooms and mushroom stock in place of the chicken stock and you've got a mushroom risotto. Add cooked peas and shrimp and use seafood stock. Add a ton of cheese and vegetables or beef stock and Italian sausage. Risottos can include whatever you like, easily making them into main dishes. The ingredients are simple and ones you can keep on hand for an easy pantry dinner.
Basic Risotto
serves 2 as a main course or 4 as a side, prep 5 min, cook time approx 20 min
3 tbsp butter
1 small onion, finely diced
2 garlic cloves, minced
1 cup arborio rice
1/2 cup white wine
3-4 cups chicken stock
1/4 cup Parmesan cheese
Bring stock to a boil and turn down to simmer, keep hot while cooking risotto.
In a separate pot over medium heat, melt butter with a little oil and saute the onion until soft. Add garlic.
When onion and garlic are soft, add rice and toss to coat. Allow to toast lightly in the butter.
Add white wine and stir until almost completely absorbed.
Adding about a cup at a time, add hot stock to rice and stir. Once stock is absorbed, add the next cup of hot stock and so on.
At about 3 1/2 cups, check the texture and seasoning of the risotto. Salt and pepper. Add more stock if necessary.
Once risotto is tender and creamy, remove from the heat and stir in Parmesan cheese. This is also the point where you could stir in any additional ingredients.
Drizzle with flavored olive oil if desired and serve!
It's the end of the week for us so I was out of most of my fresh ingredients. I always have frozen shrimp on hand so I decided to make some simple, flavorful shrimp to serve alongside the risotto. I love cooking shrimp because they cook so quickly and it gives you time to focus on the other aspects of the meal, yet they still feel special to serve.
Quick Lemon Garlic Shrimp
serves 2, prep 5 min, cook 10 min
1 tbsp olive oil
1 minced garlic clove
1/4 tsp red pepper flakes
1 lb shrimp
2 lemons, zest and juice
parsley
Thaw shrimp quickly under running water if frozen.
Heat oil in a pan over high heat.
Remove from heat and add garlic and pepper.
Return to heat and add shrimp.
Allow shrimp to cook undisturbed until opaque. Stir once to flip half way through.
Turn off heat, add lemon zest, juice, and parsley. Salt and pepper.
Toss to coat, serve immediately.

Posted in Budget, Easy, Fast, Main Dish, Pantry Challenge, Sides