October 30th, 2008 by katie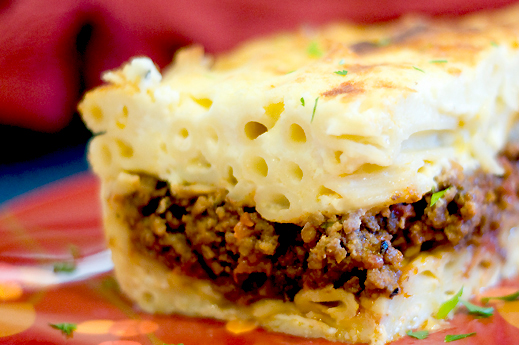 We don't make many casseroles in the Chaos household. I have nothing against them but the kids don't eat well when their food is all mixed up together. This is one of the few casseroles that I do make. It is like a lasagna in that it is not a quick, one dish meal-it requires making different things then assembling the final dish, but it isn't difficult and it makes a TON. I usually take the opportunity to divide this into two smaller casseroles then I store one in the freezer for another night. The great thing is leftovers are just as wonderful, and you will have plenty of them.
This is another Greek dish that I cannot vouch for its authenticity. I will tell you though not to freak out about the cinnamon stick. It is not like putting ground cinnamon in the dish-please don't do that!-it just imparts a subtle warm, richness to the beef. Honestly I can't taste it at all, the meat just tastes meatier. Daddy Chaos says he can taste it but not enough to freak him out, he told the kids it was Christmas meat.
I love pastitsio. The meat sauce is flavorful and rich and the bechamel covered noodles are light and creamy. The edges get chewy and browned-a requirement for any good casserole. Try this for the first time on a chilly weekend when cooking and baking seem like the perfect afternoon activity and I promise you'll be hooked after the first bite.
Pastitsio
serves 12, prep 1 hour, cook time 2 hours, adapted from Recipezaar
Meat Sauce
oil
2 onions, diced
3 cloves garlic, minced
2 lbs ground beef, pork, lamb or combination
1/2 cup red wine
1 28 oz. can crushed tomatoes in puree
1/3 cup kalamata olives, chopped
1 tsp Greek oregano
1 cinnamon stick
salt and pepper
Pasta
1 lb small tubular pasta, i used mini penne
8 tbsp butter melted
2 cups milk
2 eggs, beaten
1/2 cup grated Parmesan cheese
Bechamel Sauce
6 tbsp butter
1/3 cup flour
4 cups milk
pinch nutmeg
salt and pepper
3 eggs, beaten
1/4 cup Parmesan cheese
Prepare meat sauce first. Heat oil in a large skillet and add onion. Cook until softened and add garlic.
Add meat and cook until browned, breaking up chunks with a wooden spoon. Add remaining meat sauce ingredients, mix and simmer one hour, covered.
While meat sauce is cooking, bring a large pot of water to boil then salt generously and add pasta.
Cook pasta to al dente, drain and return to the cooled pot. With the heat off, stir in butter, milk, eggs and cheese. Set aside.
Prepare bechamel sauce by melting butter over medium high heat in a large sauce pan or medium pot. Whisk in flour and cook for several minutes, whisking smooth, do not allow the roux to scorch.
Slowly add milk, whisking constantly until thickened. If your milk is cool and sauce seems thin, bring to a boil stirring constantly then remove from heat once thick. Add salt, pepper, and nutmeg.
Beat 3 eggs in a medium bowl for bechamel sauce: slowly add sauce to beaten eggs, being careful to keep from curdling the eggs. I usually start by tempering the eggs, that is I dip my whisk in the hot sauce then whisk those drops into the eggs, then continue doing this a few times before attempting to slowly dribble about a 1/4 cup of sauce into the bowl. Once you've gotten about that much successfully incorporated, you can go ahead and slowly add the rest.
Remove the cinnamon stick from the meat, allow sauce to cool slightly and prepare casserole dishes.
Grease a large lasagna pan or two medium casserole dishes with oil then construct pastitsio by layering: pasta mixture, meat sauce, more pasta mixture. Finish by covering with bechamel and sprinkling grated Parmesan over the top.
Bake casserole at 350°F for approximately 45 min to 1 hour until bechamel is set and golden. I bake two casseroles and remove one at about 30 minutes. Allow it to cool then cover in plastic wrap then foil and place in the freezer for another dinner.
Once casserole is nicely browned on top, remove from oven and allow to rest 20 minutes.
Clean up kitchen, prepare steamed veggies or salad, then cut pastitsio into squares and serve.
You might also like:

Posted in Main Dish