October 16th, 2008 by katie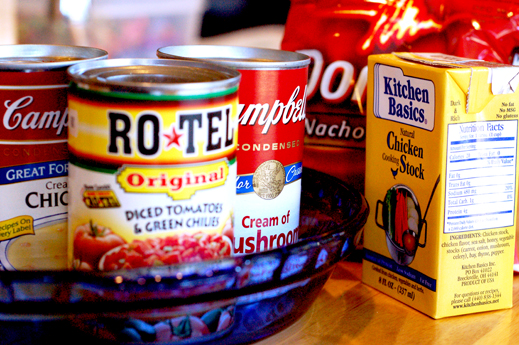 Since you always do what I say, you now have several cups of cooked chicken and chicken stock. You are ready to make a casserole! But what to make? The economy is tight so it needs to be cheap. Come to think of it, your neighbor is having a harder time than you are so maybe the recipe should easily make two? Ok, since we are making it for multiple families it needs to be comforting and familiar. Finally, it should be filling and hearty. Oh yeah and it should taste good too.
We don't eat a lot of casseroles, since most of the members of the Chaos family prefer their food not to touch. Also, I have a love/hate relationship with condensed cream soups. I loathe their processed-ness but, at the same time, so many wonderful foods from my childhood contain them! This recipe is actually Daddy Chaos's favorite casserole. It is one his mother used to make for him and I have endeavored to prepare correctly for approximately 7 years now. Some of you will recognize it as a version of King Ranch Chicken. Anyone less familiar with Texan cuisine will be comfortable with my generic name: Mexican Chicken Casserole or as his family calls it plain ol' Chicken Casserole.
Mexican Chicken Casserole
serves 8, Prep: 15 min, Cook: 45 min
2lbs chopped cooked chicken
1 (10 ¾ oz) can cream of mushroom soup
1 (10 ¾ oz) can cream of chicken soup
1 cup chicken broth
1 (10 oz) can diced tomatoes and peppers, drained, Rotel
8oz Velveeta, shredded (yes, I am the devil)
1 (15 oz) bag Nacho Cheese Doritos
Serve with rice and corn
Cook and chop 2lbs of boneless skinless chicken breasts, or use about 4 cups leftover cooked chopped chicken from any source.
Preheat oven to 350°F. In a large bowl, combine soups, chicken broth, and tomatoes, stir.
In a medium/large casserole sprinkle half the chicken, cover with half of the soup mixture, the sprinkle with half the cheese.
Repeat layers with remaining chicken, soup mixture and cheese.
Top with enough crushed Doritos to cover.
Bake

uncovered

for 45 minutes until chips are brown and casserole is bubbling.
While the casserole is in the oven prepare 8 servings of rice and vegetables. I like corn. Also, clean up the dishes and wipe down the counters. Mwahahaha
When you bake this, do not freak out if the chips look like they are burning. I generally do and for 7 years I have baked this covered to prevent the burnt chip look. The result being my casserole is always too runny. I guess I would rather have my husband complain about it being too runny than for the chips to look burnt, even though they taste absolutely fine. Don't be like me! Have the courage to leave the casserole alone. This is also a great recipe to bring a neighbor who might need a good, hot meal. It is easy to prepare and very, very filling.