December 11th, 2008 by katie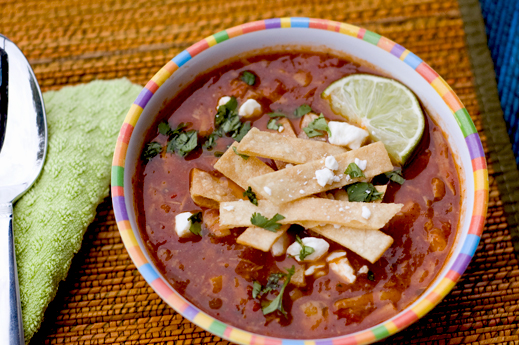 I swear not all my leftovers recipes are soup. But after a heavy holiday meal like Thanksgiving, all I want is something light. Light, yet filling and hot because it is still cold out there!  Anytime we have chicken on the menu we plan ahead for leftovers so we can make this soup another night.
Cheryl at 5 second rule also reminded me that leftover turkey was not pre-destined to be a pot pie or a casserole. It could also be turned into a hearty soup. Duh! We make tortilla soup down here pretty often and the turkey and turkey stock I had leftover made this a great fast meal.
I wanted to try a new recipe for tortilla soup: this one posted by Krysta aka evil chef mom originally posted by Melissa of Alosha's Kitchen. Two of my favorite bloggers: I knew they wouldn't steer me wrong. I made a few changes of my own and I loved it! mrChaos complained that it wasn't his mom's recipe but decided to tell me he liked it anyway in the end.
Tortilla Soup
serves 8, prep 5 min, cook 20 min, adapted from
ecm
1 onion, diced
3 cloves garlic, minced
1 tbsp oil
2 tsp chili powder
1 tsp oregano
1 tsp cumin
1 28 oz can crushed tomatoes
1 10 oz can diced tomatoes and green peppers (Rotel)
5 cups chicken broth
1 serano pepper, minced, seeds removed
2 soft corn tortillas, finely chopped
1/4 cup fresh cilantro, chopped
4 cups chopped cooked chicken (or turkey)
In oil, saute onion and garlic until soft.
Add tomatoes, broth, and spices. Bring to a boil and simmer for about 10 min.
Add pepper, tortillas, and chicken. Continue simmering about 10 more minutes.
Add chopped cilantro, salt and pepper.
To serve have any of the following: shredded cheese, sour cream, sliced avocado, fresh cilantro, crushed tortilla chips or fried corn tortilla strips.
To make tortilla strips: heat about 1 inch of oil in a skillet or pot. Stack about 6 corn tortillas on the cutting board and slice them into long thin (1/2 in) strips. Cut these in half. Drop into hot oil by the handful, quickly stirring to separate. Fry for a couple of minutes or until crisp and lightly golden. Remove strip from oil and dry on a paper towel. If you want to sprinkle them with salt or spices do so while they are still shiny from the oil.
Here are some more ideas for using leftover cooked chicken.