February 1st, 2009 by katie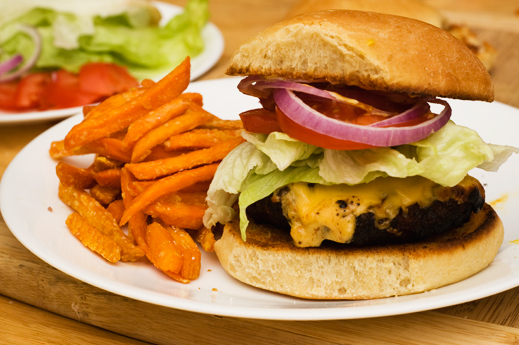 I love cheeseburgers.  Actually, what I love is the combination of textures and flavors in a classic burger.  Hot, juicy beef with melty, gooey cheese, the crispness of the lettuce and sour pickles combined with the sharp tang from the red onion and mustard all balanced together with the sweet tomato and rich mayo.  The bun is an important factor in the total burger experience-too much bun and the textures are lost in TOO MUCH BREAD, too little and you have no way to contain and deliver your juices and sauces.
Burger night is a great, easy weeknight meal that pleases everyone.  Like taco night, sandwich night, or gyro night, every picky kid or grown-up gets to control the construction of their burger.  For our recent burger night I made the buns ahead of time so when it was time to eat it was simply a matter of making hamburger patties and grilling them.  I used the bun recipe from What geeks eat… which was easy and delicious.  I was very nervous because the buns didn't really rise much on the pan but in the oven they puffed up beautifully.
Also, to change things up a bit I made sweet potato fries: super easy with a bag of frozen julienned sweet potatoes.  I deep fried them at 370° for about 5 minutes then sprinkled with kosher salt.  Overall a super easy, fast family meal.

Posted in Easy