November 19th, 2009 by katie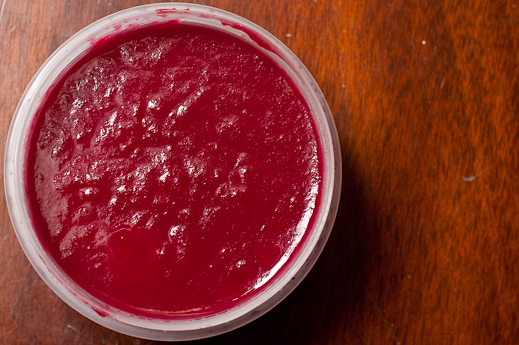 I never ate cranberry sauce as a kid, it was only as an adult that I recognized it's sweet-tart flavor was a great foil to the piles of savory starches on my Thanksgiving plate.  Cranberry sauce is super easy to make and keeps well in the fridge.  It's as easy side to make a day or two in advance just don't forget it a serving time!
Classic Cranberry Sauce
makes 2 cups, prep 1 min, cook 10 min
1 pound fresh cranberries
1 cup orange juice
1 cup sugar
Combine all three ingredients in a medium pot.
Bring to a boil and simmer until cranberries burst and liquid thickens.
Strain, if desired, and chill.
If you like it chunky you will get about 3 cups of sauce.

Posted in Condiments, Easy, Fast