June 8th, 2008 by katie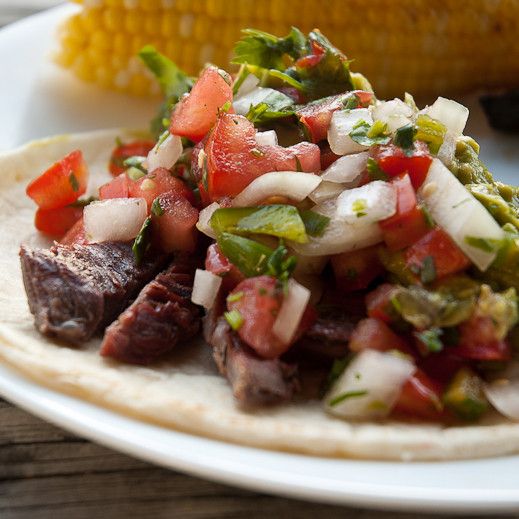 Whatever you consider Pico-salsa, salad, condiment-it is a great way to freshen or brighten up what could otherwise be really heavy dishes. Enchiladas, queso, guacamole are all thick, creamy, and rich and really go well with the bright flavors and contrasting texture of the pico. It is also a great way to incorporate veggies into really meat heavy dishes like tacos and fajitas. You can also serve it as a dip with chips or as a topping over grilled chicken or shrimp. This recipe is really just a guideline. Start by combining a little at a time until you get the tomato/onion/pepper/cilantro combination you like.
Pico de Gallo
makes about 2 cups, prep: 20 mins, make ahead of time if possible
4 medium tomatoes
1/2 small white onion
1/4 cup chopped fresh cilantro
1-2 serrano peppers, to taste
1 clove garlic, minced (optional)
2 tbsp lime juice (optional)
1 tsp kosher salt
pinch sugar
Finely dice all vegetables and combine all ingredients, to taste.
I think pico is better when it is finely diced to allow all of the flavors to really come together and to get a little of each flavor with every bite. Finely chop the tomatoes, onion, cilantro, and the green flesh of the peppers. If you want the pico to be hot you can keep in some of the seeds and ribs.

Posted in Condiments, Easy, Snacks/Appetizers