September 5th, 2008 by katie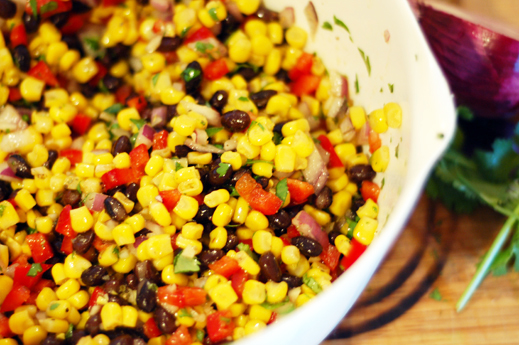 This is a great party contribution, especially for an outdoorsy, barbecue-type party. Although really anytime you want to impart a little summery fiesta attitude into a regular old party, feel free to bring this salad. Also a great side dish for taco night or with fajitas, just expect leftovers for lunch the next day.
Black Bean and Corn Salad
makes approx 6 cups, prep 20 min
1/4 cup olive oil
2 tbsp lime juice
1 tbsp red wine vinegar
1 clove garlic, minced
1 1/2 tsp cumin
1 1/2 tsp oregano
1 1/2 tsp salt
1/4 tsp sugar
1/8 tsp black pepper
1 (15 oz) can black beans, drained and rinsed (start with 1/2 a can)
1 (16 oz) frozen corn, thawed (could also used canned or fresh or grilled)
1/2 red onion, diced
2 small tomatoes, diced
1 sweet red bell pepper, diced
1-2 jalapenos, minced
1/4 cup cilantro, finely chopped
Whisk together the first nine ingredients, oil through black pepper.
Combine all your chopped vegetables-beans, corn, onion, tomato, peppers and cilantro-and toss in the dressing.
Best when prepared ahead of time and allowed to sit in the refrigerator. I usually try to make it the day before but you could even make it a couple days ahead.
This salad can really be made to suit your tastes. I have made it both with fresh red bell peppers as well as roasted red peppers from the jar. I have forgotten the tomatoes and added more or less jalapenos and cilantro, or substituted serranos for the jalapenos. I am not sure I ever make it the same way twice because, as I've said before, I am unable to just accept it and leave a good recipe alone.

Posted in Easy, Salads, Sides, Snacks/Appetizers