November 20th, 2009 by katie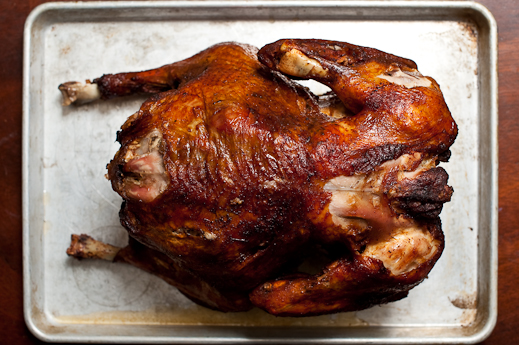 I really think Thanksgiving dinner is less about the turkey and all about the side dishes-mrChaos, on the other hand, says that's just me.  Nevertheless, a traditional roast turkey might be a nice centerpiece but it doesn't inspire much excitement.  My absolute favorite turkey preparation, one I would eat any time of year, is deep fried Thanksgiving turkey.  Crisp skin, juicy meat, and loads of flavor-I look forward to the fried turkey every year now.
Fried Turkey
makes 1 13-14 lb turkey, prep overnight brine, cook 40 min, adapted from
Alton Brown, 2006
1 fresh or 100% thawed turkey
6 qts hot water
1 lb brown sugar
1 lb kosher salt
1 bag ice
peanut oil for frying
The night before heat water and combine with sugar and salt in a cooler until dissolved.
Add ice and submerge the turkey.  Cover and allow to brine overnight.
When ready to cook, remove turkey from brine and pat it completely dry with paper towels.
Heat oil to 250°F in a turkey fryer.
Lower turkey carefully into hot oil and raise the temperature to 350-400°F.
Fry the turkey approximately 30-40 minutes checking oil temperature occasionally.  Remove the turkey when an instant thermometer in the breast reads 150°F.
Allow turkey to rest 30 minutes before carving.
Frying a turkey can be very dangerous if you are not careful and prepared.  It is actually a very fast, easy method of getting a great bird on the table but if this is your first time frying a turkey consider these tips:
Fry your turkey out doors away from crowded or flammable areas (no overhangs!).
Expect the oil to take a while to heat and a large heat drop when you add the turkey.
To measure how much oil you will need: place your turkey in the fryer and fill with water until covered.  Remove the turkey and either measure the water or remember where the line is so you can add that amount of oil.
Be sure your fryer and turkey are both completely dry before frying.
Do not attempt to fry a turkey over 14 lbs.
Be sure your turkey is prepped with a wire truss and you have a hook or a fryer basket for placing it in and removing it from the oil.
Do not attempt to fry a turkey that is not 100% completely thawed.  It will catch fire or even explode.  If you don't feel confident that your turkey will be totally thawed and dry by frying time, prepare ahead and order a fresh turkey.
If you really enjoy fried turkey, like we do, you may want to invest in an electric turkey fryer
which makes it even easier and safer to fry your turkey every year.
Two more points to consider when frying your turkey: first, you will have to bake your stuffing seperately in the oven and secondly, you will have no drippings for making gravy.  I suggest roasting a small breast earlier in the week and saving the drippings for the big day (this will also give you some extra meat if a 14 lb bird won't feed your crowd).  Then you will have a nice carcass for making stock giving you plenty of turkey stock on hand for the gravy and stuffing.
After the big meal, as with any bone-in roast, be sure to save your fried carcass for making stock.  I find turkey and chicken stock to be interchangeable, and the leftover meat is also great in a pot pie.

Posted in Main Dish