June 29th, 2009 by katie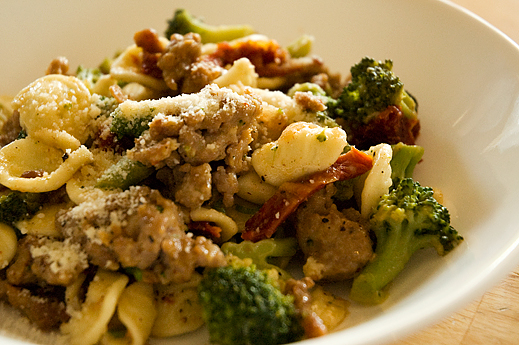 So I bookmarked this recipe in an old Fine Cooking magazine, yet never seemed to get around to it.  It sounded easy and simple and had common, familiar ingredients, and maybe that was the reason I never got that excited about it.  Finally, the day came when-while I was napping on the couch not thinking of cooking anything-mrChaos announced he was starvingandgoingtodie unless he ate right now. Like, no time for take out, must eat a meal NOW.  So I decided to give this 20 minute, essentially pantry, recipe a chance.
Wow! There is  a lot going on in this dish.  I was thinking pasta, sausage, broccoli: good, but not life changing.  Well let me tell you: caramelized garlic, sun dried tomatoes, lemon juice, Parmesan cheese, caramelized garlic. This simple, quick pasta dish was hearty, yet light and flavorful, familiar yet special.  I am so glad I finally tried it, we will be having it often!
Orecchiette with Caramelized Garlic, Sausage, and Broccoli
serves 4, prep 5 min, cook 15 min, adapted from
Fine Cooking, October 2003
2 tbsp olive oil
1 lb Italian sausage, crumbled
3 cloves garlic, peeled and thinly sliced
1/3 cup sun-dried tomatoes, julienned, jarred in oil
3/4 lb dried orecchiette or penne pasta
1 tbsp fresh lemon juice (about 1/2 a lemon)
3 tbsp fresh grated Parmesan cheese plus additional for serving
salt and pepper
Thaw frozen broccoli florets briefly under cool running water.
Bring a large pot of water to a boil.
Heat oil in a skillet on medium high.
Cook Italian sausage until browned, reserve to a plate.
Salt pasta water and add pasta.
There should be about 2 tbsp of fat in the skillet, if not add olive oil to make about 2 tbsp.
Turn heat to medium-low and cook garlic, stirring frequently, until golden brown.
Add broccoli and sausage back to the pan and heat on high until warmed through.
Add tomatoes, salt and pepper to taste.  Take off heat.
Finish pasta (total cook time is about 10 minutes). Reserve 1 cup pasta water and drain.
Add pasta to broccoli and sausage, toss over high heat.  Add about 1/2 cup of reserved pasta water as needed to moisten mixture.
Remove from heat, stir in lemon juice, cheese, salt and pepper.
Serve with additional cheese.