June 12th, 2009 by katie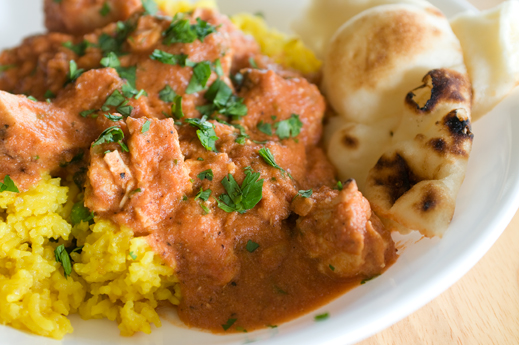 The colors, man.  The colors.
Score one for trying something new.  I don't like Indian food.  You know, sort of how I don't like curry?  Or how I am only lukewarm about chicken salad?  Here's a good one, don't forget: I hate beans.  Yeah, I am the poster child for not liking foods I have never really eaten.  I have been trying to change that mentality by trying new things and branching out of our comfort zone a bit.  I really enjoy the Pioneer Woman Cooks! because the food feels familiar and I can look at the recipes and know if we will like them.  So when one of Ree's guest posters, Pastor Ryan, posted a recipe for Tikka Masala, I didn't quite know what to think.  This was was different food, un-familiar food, food I wouldn't like.  As I scrolled through the photos I noticed something.  Chicken, yogurt, onions, garlic, tomatoes, heavy cream, cilantro, so um, where was the food I didn't like?  There were spices involved, but nothing I didn't have in my spice cabinet.  I made Ryan's recipe for Garam Masala and honestly couldn't even taste the spices in the final dish.  I know they were there, subtly contributing to the layers of flavor, but there was no overwhelming spice to offend.
This dish was delicious; definitely a hearty meal.  I substituted half and half for the heavy cream and reduced the garam masala recipe by a third (teaspoons instead of tablespoons-which was the perfect amount called for in the recipe without any left over).  My rice came out of the rice cooker a little mushy but that could be a difference in machines.  This is a dish I will make again, especially in the fall when hot, hearty comfort food is really needed.  My only warning is that it is a bit of a gateway drug.  Now I can't wait to get my hands on a good butter chicken or saag paneer recipe.