January 5th, 2009 by katie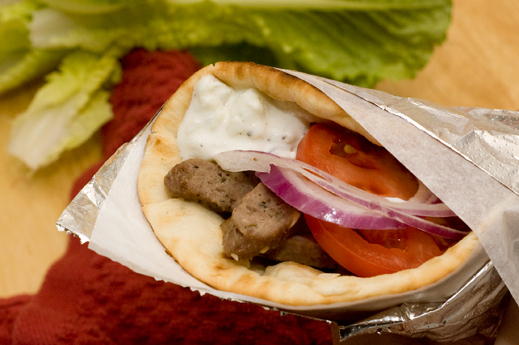 So for my first official dinner of the New Year (yeah, I know it's the 5th) I wanted something that was not a million calories but still a good, flavorful family meal. Of course Mediterranean food always fits the bill when looking for a light meal with a flavor punch. Gyros are one of our favorite weeknight meals. The entire prep and cook time is less than 15 min but they are delicious and fun and guests are always impressed when we make these. You can serve with a greek salad and fries if you want to stretch it.
Gyros
serves 4-6, prep 5 min, cook 10 min, adapted from
Recipezaar
1 lb ground lamb or chuck
2 garlic cloves, minced
2 tsp oregano
1 tsp onion powder
1 tsp salt
3/4 tsp black pepper
flat bread or pita
tomatoes, red onions, cucumbers, lettuce as desired
Prepare tzatziki, hopefully earlier in the day or the night before but whatever.gh
In a bowl, combine meat and spices.
Form into patties and place on a baking sheet.
Broil patties for 8-10 min or until cooked through.
Slice patties thinly and serve over flatbread with tzatziki, tomatoes, and onions. Some might like thin cucumber slices or lettuce.
I wrap the pitas in foil and put them in the bottom of the oven while the meat is cooking so they are warm and soft when it comes out. This is a good family meal because, like taco night, each meal is customizable for picky kids or guests.
Oh yeah, and Happy New Year!