November 15th, 2008 by katie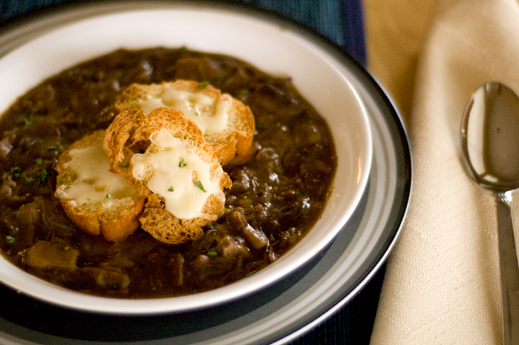 Nothing makes for a better Sunday dinner than a delicious, slow simmered pot roast. What makes it even better is knowing that pot roast is going to be the base for a quick weeknight meal as well. Planning for leftovers, either for lunches or as additional meals, is a great way to stretch your budget and your time. The next time you are buying a chuck roast, get one just slightly larger. Once prepared, reserve the extra portion before serving so no one is tempted into seconds or thirds. Cube the leftover beef and store it in the fridge or freezer until you are ready to use it as a base for this delicious soup.
This recipe is adapted from a recipe my mother-in-law created to use up her leftover roast beef. This is a great soup for winter: warming and hearty. If you don't have any leftover roast on hand you can also make it with precooked roast beef from the grocery store.
Beef and Mushroom Soup
serves 4, prep 5 min, cook time 30 min
4 tbsp butter
1 small onion, diced
1-2 cloves garlic, minced
8 oz. mushrooms, sliced
1/2 cup red wine
40 oz. beef broth
2 cups cooked roast beef, cubed
2 tbsp butter
2 tbsp flour
baguette, sliced thin
shredded mozzarella cheese
Melt butter in soup pot. Add onions, garlic, and mushrooms.
Saute over medium high until mushrooms and onions are browned, immediately deglaze the pan with wine.
Scrap the bottom of the pot and add beef broth. Bring to a boil.
Stir in cooked roast beef and simmer.
In a small sauce pan melt 2 tbsp butter. Sprinkle with flour and cook, stirring frequently until flour is golden and lightly browned.
Stir small amounts of cooked flour into boiling soup until desired thickness.
Cook a few additional minutes, season with salt and pepper.
While soup is cooking, preheat oven to 400°F. Melt some butter in a shallow dish or plate.
Dip one side of each baguette slice in melted butter then place butter side up on a baking sheet.
Place baking sheet in oven until bread slices are golden, approximately 10 minutes.
Flip the slices and sprinkle with shredded mozzarella, salt and pepper.
Return to the oven until cheese is melted.
Serve soup topped with additional shredded cheese and a couple of toasts.
You can also prepare this soup and store it in individual servings in the freezer. Heated in the microwave, it makes for a great quick lunch.