November 19th, 2008 by katie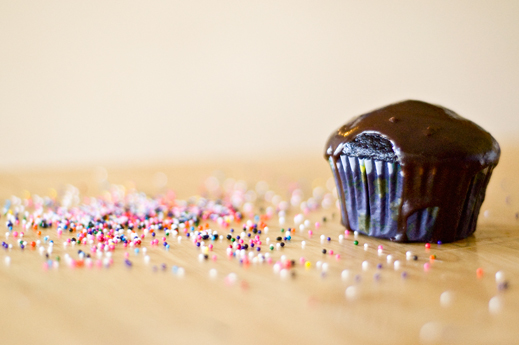 Ok so in this post I went on and on talking about how I hate making more than one tray of a dessert and blah blah blah and then I proceeded to post two more dessert recipes that make an astronomical number. For example, yesterday you said, "Chocolate Stout Cupcakes?! I must have them!" But then you saw the recipe makes four dozen and you were disappointed that our relationship was not what you had thought.
Well, because I am touched and humbled that anyone out there is interested at all in what I am doing here, I adjusted and tested and scaled down and tested the chocolate stout cupcake recipe to make, yes-that's right-one tray. One dozen delicious, rich chocolate stout cupcakes. I also tried this batch with a simple chocolate ganache and liked it much better. The cupcakes are so deeply flavored that I wanted an icing that wouldn't compete with their complexity. (Also try this amazing Vanilla Bean Cream Cheese Frosting)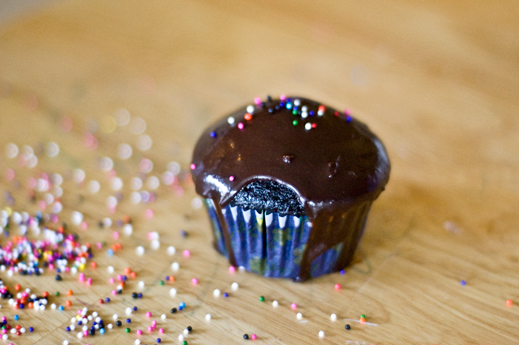 Chocolate Stout Cupcakes (small batch)
makes 1 dozen, prep 10 min, cook time 15 min, adapted from
Bon Apétit September 2002
1/2 cup stout beer
1/2 cup butter
1/2 cup unsweetened cocoa powder (Dutch-process)
1 cup flour
1 cup sugar
1 tsp baking soda
1/2 tsp salt
1 egg
1/3 cup sour cream
Preheat oven to 350°F. Prepare cupcake pan.
Bring stout and butter to a simmer on the stove top.
Stir in cocoa powder until smooth, remove from heat.
Combine dry ingredients in a bowl.
In a mixing bowl beat eggs and sour cream until combined.
Slowly beat in chocolate mixture.
Add dry ingredients and stir to combine.
Pour into cupcake molds and bake for 15 minutes or until a tester comes out clean.
Chocolate Ganache
makes about 1 cup, prep 5 min, cool time 2 hours
1/2 cup whipping cream
1/2 cup semisweet chocolate chips or pieces
Bring cream to a simmer on the stove top.
Remove from heat and stir in chocolate until smooth.
Refrigerate until thick and pourable or longer for spreadable.
Ice cupcakes once they have completely cooled.
There are now over 100 posts on chaos in the kitchen and I really do want to thank everyone who has left me comments and encouragement over the last few months. I read every comment and they mean so much to me. Cooking only brings me joy to the extent that I am able to share it with others. So thank you for reading and know that I love hearing from you in comments and emails. You can also find me on twitter if that's your cup of tea. I am looking forward to the next 100 posts. Leave me a note if there's anything special you'd like me to make or discuss!