May 24th, 2008 by katie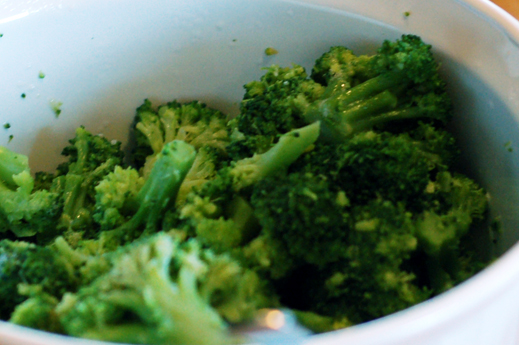 Why do so many people hate broccoli so much? Is it because they were forced to eat bowls of it-gray and mushy-as children? I think, after Brussels sprouts, broccoli is the vegetable I hear people complain about the most. I really like Brussels sprouts and broccoli and because I do, I think everyone can like them. I got my vegetable hating husband to like them-ok, eat them-and its only taken about 8 years. He still won't touch the Brussels sprouts, but that's ok-it means more for me.
I make steamed broccoli with almost every meal. In fact, I can't think of many meals that steamed broccoli would not go with. Because we have it so often, my kids are generally pretty open to eating it, especially if the meat portion of the dish doesn't interest them. Personally, I love bright green just barely tender steamed broccoli with a little butter stirred in and a sprinkle of Kosher salt. Over the years, I have tried many different ways of steaming vegetables and have finally settled on using the microwave. It takes five minutes to steam frozen broccoli in the microwave, which makes it an easy side I can prepare literally as the table is being set. When I feel pressed for time, I buy the bags of frozen broccoli you can just throw in the microwave-bag and all. If I am cutting grocery costs, I just dump any bagged frozen broccoli florets into a microwavable bowl with a lid and zap it for 3-5 minutes. No need to add anything. Then simply serve, as is or with a little melted butter and salt. The bright flavor and subtle sweetness of the broccoli comes through and doesn't need any other accompaniment.