January 12th, 2010 by katie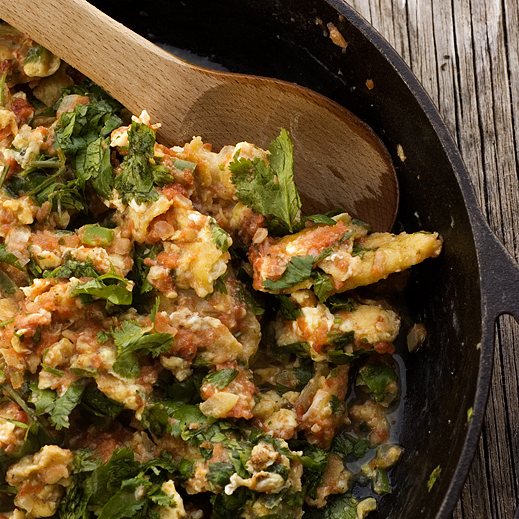 Before moving to Texas I had never heard of Migas.  As soon as I tried them I fell in love with the soft scrambled eggs, cheesy fried tortilla chips, spicy salsa, and bright cilantro all mixed together and served piping hot!  It is a great breakfast to have when you have stale tortilla chips or extra corn tortillas that are going to go to waste.  My mother-in-law first made migas for me with diced tomatoes but I use fresh salsa instead because we always have it on hand and I think it lends a spicier, brighter flavor.  If you don't have access to fresh salsa at the grocery store (refrigerated in the produce section, not the jarred stuff)  you can make migas the morning after making a batch of this salsa or your favorite salsa.  You can also just use diced tomatoes or leftover pico de gallo.
Migas
serves 2-3 very hungry adults (double for 4+), prep 10 min, cook 10 min
6 eggs
1/4 cup milk
1 tbsp oil
2 cups corn tortilla chips or chopped corn tortillas
1 bunch green onions (green and white) or 1/2 onion, diced
2 jalapenos, diced (de-seed depending on how hot your salsa is!)
2 oz good melting cheese, shredded, like cheddar, Colby, Jack
1 cup mild fresh salsa
1 cup chopped fresh cilantro
salt and pepper
In a mixing bowl or large glass measuring cup combine eggs and milk, beat lightly with a fork.
Heat oil in a heavy skillet over medium heat.
Fry tortillas in oil until crisp and starting to brown, add onion and jalapenos saute until soft. Sprinkle with salt and pepper.
Pour egg mixture into the pan with chips and sprinkle with salt and pepper.
Stir eggs gently until soft-set. Sprinkle with cheese and stir to combine.
Make a well in the center of the skillet and add salsa.
Allow salsa to warm up in the center of the skillet for a minute before gently stirring into the egg mixture.
Taste, salt and pepper.  Turn off the heat and stir in fresh cilantro.
Serve immediately.

Posted in Breakfast