January 21st, 2010 by katie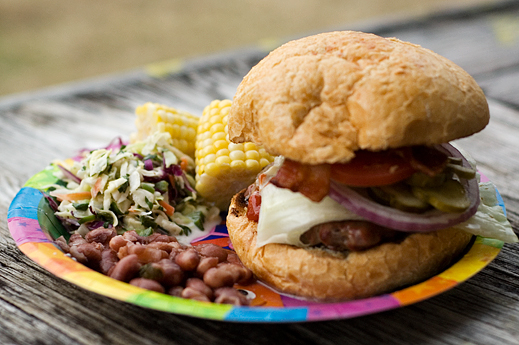 We had a birthday barbecue for the littlest kid last weekend.  We ground our own hamburger meat using 50% brisket and 50% top sirloin.  I had intended to cut off the fat and weigh it separately to ensure we got a good 80/20 ratio but, alas, I ran out of time.  Hence the burgers were a little dry.  We also double ground the meat which I don't think was necessary as they were a little crumbly.  Overall, it was a really fun experiment.  If you have a KitchenAid mixer, the Grinder Attachment
is about $40 if you want to try experimenting with different meat grinds.
We will definitely continue this experiment.  Next time I might have to actually visit the butcher to request some brisket fat.
Some tips for anyone interested in grinding your own hamburger meat:
Keep everything well chilled.  Keep your grinder in the freezer until ready to grind and consider even placing the meat in the freezer briefly on and off during the grinding process.  You want to keep the fat on the meat from getting to warm and clogging up your grinder.
Weigh your meat and fat separately to ensure you have an 80/20 ratio.
Give yourself plenty of time, it is not a fast process.  If you overload your grinder or you let everything get too warm, your grinder will clog and you'll get stringy chunks of meat and fat that aren't ground.  Then you'll have to re-grind it which is both time consuming and I think upsets the texture of the burger.

Posted in Main Dish