April 10th, 2009 by katie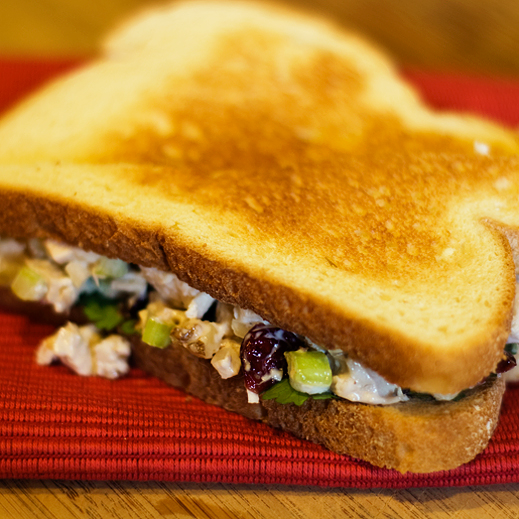 Chicken salad is another one of those foods I didn't grow up eating.  My mother hates mayonnaise to the point of nausea.  So any kind of mayonnaisey "salad" was out of the question-no tuna salad, no egg salad, are there more?  Chicken salad was something mrChaos introduced me to because it was a common sandwich filling at his house growing up.  It is ok and occasionally I make it and we eat it and then I don't make it for awhile.  On the other hand, I do make and take to work with me actual salad (like, with lettuce and stuff) every week.  I love the combination of bits of creamy, salty cheese, pecans, crunchy sour green apple slices and chewy sweet sour cranberries tossed with a tangy vinaigrette, like this.
So when I saw Cranberry Pecan Chicken Salad on one of my favorite blogs, I knew I would love the combination.  And I do, very much.  It is slightly sweet and nutty, with a crunch from the celery and shallot.  There is just enough mayonnaise to hold it together, mixed with some red wine vinegar for some tang.  I currently can't get enough of this stuff!
Chicken Salad with Cranberries and Walnuts (or Pecans)
makes 4-6 servings, prep 10 min, adapted from
une-deux senses
and
smitten kitchen
3-4 chicken breasts, cooked and chopped
1 cup toasted walnuts or pecans, chopped
1 cup dried cranberries
1 small shallot or yellow onion, diced (if you use onion you might want to add a bit of garlic)
1-2 ribs celery, diced
2/3 cup mayonnaise
3 tbsp red wine vinegar
salt and pepper, to taste
Combine the ingredients in a large bowl, to your taste.
Chill before serving.
I love this in a sandwich on some toasted wheat and nut bread, it is absolutely delicious.  I actually like to eat a sandwich for breakfast and it keeps me full and gives me plenty of energy to get going for the day.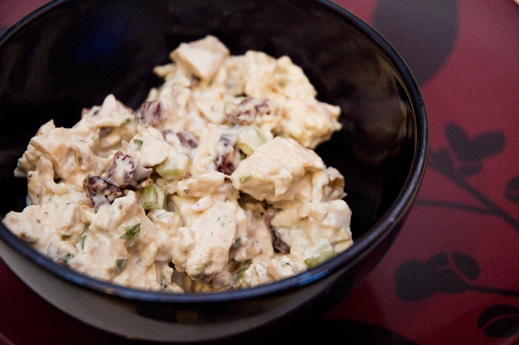 Cost Analysis:
1 lb all-natural chicken breasts: $3.99
1 cup nuts: $1.69
1 cup cranberries: $1.25
1-2 stalks organic celery: $0.16
1 shallot:  $0.24
2/3 cup mayonnaise: $0.90
Total cost for 4 servings: $8.23 or $2.06 per serving