February 25th, 2009 by katie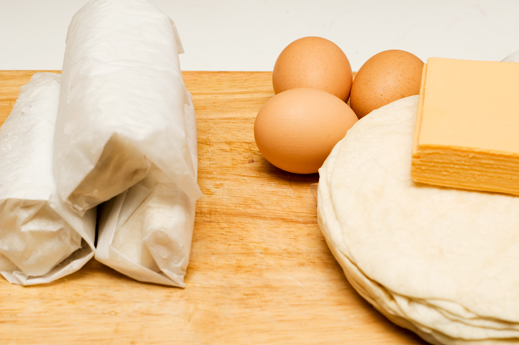 Blogging the Recession: Freezer Food
Getting a good, satisfying breakfast into our bellies is the surest way to start the day right.  It makes it easier to make healthy food choices for the rest of the day when you aren't starving or the victim of plummeting blood sugar.  This is different for everyone but if fiber does it for you then you are pretty much covered by some high fiber oatmeal or a breakfast bar or some other portable fiber delivery method.  For me, it is protein that keeps me clear headed and satisfied.  I eat fruit and vegetables and whole grains throughout the day but at breakfast I need a quickly deliverable dose of protein.
Breakfast tacos are a great solution to this.  They are completely customizable, easy and cheap, and they are hot and steamy in a few minutes and ready to be eaten on the way out the door.  You can add cooked sausage, hash browns, mushrooms, onions, salsa, beans, whatever you like, but my personal favorite is the basic bacon, egg, and cheese.   Also, feel free to use whole wheat or burrito sized tortillas but I like the soft, homemade fajita sized flour tortillas the tortilleria puts out at our store.
Freezer Breakfast Tacos
makes 12 tacos, prep 15 min, cook time 20 min
1 dozen eggs
1/2 cup milk
1 lb bacon (12 slices)
6 oz cheese
12 flour tortillas
First cook bacon or sausage or any other ingredients.  I used this method for the bacon and was able to start the eggs and do all the prep while the bacon cooked.
Combine eggs and milk, beat.
Pour into hot skillet and scramble.
Allow to cool while preparing an assembly line station for making the tacos.
Let your ingredients cool  before making the tacos because too much heat will steam them and make them wet.  We aren't eating them now so it doesn't matter if its cold-in fact, it is better.
Warm up the tortillas (I know I just said it should all be cold, but not the tortillas or they will tear) by heating them in the microwave covered by a damp towel for about 1 minute, until they are soft and pliable.
Lay out a tortilla, add a small slice of cheese, a small scoop of egg, and a small scoop of whatever else you are adding, a slice of bacon, etc… Don't try to over stuff the tortillas or they will rip or leak and you won't have your handy portable breakfast.
Fold in the sides the roll the tortilla up so all the filling is enclosed. Place seam side down to cool. Continue with remaining tortillas and filling.
Once tacos are cool roll them up in parchment or wax paper or plastic wrap. Freeze.
To reheat:  If wrapped in paper, place in the microwave and microwave in 30 second bursts for about 2 minutes or until hot through.  If wrapped in plastic, remove plastic wrap and wrap in a paper towel to microwave.
Cost Analysis:
1 dozen cage free eggs: $2.19
1/2 cup organic 1% milk: $0.19
1 lb bacon: $3
6 oz white American cheese: $2.30
12 fresh flour tortillas: $2.21
Total cost for 1 dozen breakfast tacos: $9.89 or 82¢ per taco.