August 13th, 2014 by katie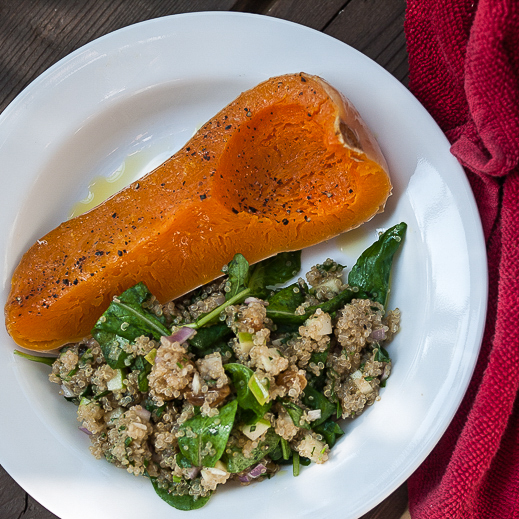 Fall is fast approaching but we can enjoy a few more simple salads while it's still a million degrees outside!  This easy quinoa salad is bright and fresh and interesting and makes a great side or even main course while sweating on a patio.  If you haven't experimented with quinoa yet, this is a great way to get your toes wet.  Add chopped pecans or crumbled goat cheese, diced avocado, mandarin orange segments,  diced chicken breast or some grilled shrimp.  Its easy and forgiving and impressive at a party if you don't save it all for yourself!
Roasted Butternut Squash and Quinoa Salad
serves 4, prep 15 min, cook 45 min
1 butternut squash
2 tbsp olive oil, divided
1 cup quinoa
2 tbsp golden raisins
1 tbsp sherry vinegar
1 tsp honey
1 granny smith apple, diced
1 large shallot, diced
1 clove garlic, minced
2 tbsp mint, chopped
2 tbsp parsley, chopped
2 cups arugula
salt and pepper
Pre heat oven to 350°F and line a baking sheet with foil.  Slice butternut squash in half and remove seeds.

Brush squash flesh with 1 tsp oil.  Sprinkle with salt and pepper and place cut side down on the baking sheet.  Roast squash 45 minutes or until tender.

About 15 minutes before squash is done, boil 2 cups of salted water and stir in quinoa.

Simmer quinoa, covered, approximately 10 minutes.  Add raisins and cover again.  Simmer an additional 5 minutes or until liquid is evaporated.

In a large serving bowl, whisk together vinegar, remaining oil, honey, salt and pepper.  Add apples, shallot, garlic and herbs.

Add cooked quinoa and stir to combine.  Gently fold in arugula and taste for seasoning.  Add additional salt and pepper as desired.