January 14th, 2009 by katie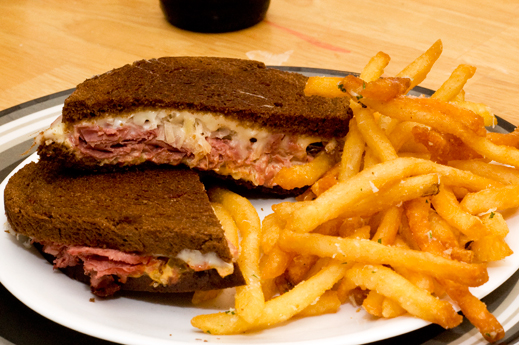 Yes, the fries really were that color.  It is possible I overcooked them just a smidgen.
I recently decided to take Kristen's advice and stop trying to be so ambitious with my weekly menus. I sometimes forget the simple staples that we know and love in the pursuit of the next! best! recipe! One thing we love is hearty sandwiches for dinner. I figure if there is at least one meal per week on the menu as brainless as a sandwich, I might actually be able to accomplish our goal of not eating out sticking to the budget.
And so I offer you the second longest blog post ever written by me:
Reubens
makes 4 sandwiches, prep 5 min, cook time 5-10 min (pan-fried) 15 min (baked)
8 slices dark rye bread (actually I like pumpernickel, don't tell)
1 lb corned beef, thinly sliced-almost shaved-in the deli
1/2 cup sauerkraut, drained
4-8 slices provolone or Swiss
1000 island or Russian dressing (see below) or some type of deli mustard you like
butter
Decide whether you want to bake or pan fry your sandwich. Pan frying takes less time and has better flavor but requires more work and may require you to cook the sandwiches in batches. If you need to make a bunch of sandwiches, all at the same time, and want them done at the same time you are better off baking them.
If baking pre heat oven to 425°F, or heat a pan with a lid over medium heat.
Construct your sandwiches: spread bottom bread slice with dressing or mustard, pile corned beef evenly over, top with a layer of sauerkraut then cover with cheese and top slice of bread.
If baking sandwiches, wrap tightly in foil (and label with a marker because everyone's sandwich is they way they like it-more sauerkraut, no dressing, extra cheese) and place on a baking sheet. Bake sandwiches for 15 min.
If pan frying sandwiches, proceed as for a grilled cheese: melt some butter in a pan (decide if you want to babysit all the sandwiches at once or work in smaller batches, also depends on the size of your pan), then fry sandwiches, covered, about 3-5 minutes per side until warm through and cheese and dressing are melty and gooey.
I served this with Garlic Parmesan Fries (also seen here, properly cooked) which we then ramped up with some truffle salt
.
Truffle Scented Garlic Parmesan Fries, mwahaha
makes 4 servings french fries. prep 5 min, cook time 10 min
1 16 oz bag frozen matchstick cut french fries
oil for deep frying
2 cloves garlic, minced
1/4 cup parsley, finely chopped
1/4 cup Parmesan grated
truffle salt or a drizzle of truffle oil (optional, but then they aren't Truffle Fries)
Fry french fries for three minutes at 325°F then heat oil to 370°F and fry for 3-5 more minutes or until golden.
Toss hot fries with garlic, parsley, Parmesan, and sprinkle with truffle salt. Do this while they are still shiny so it will all stick (hopefully).
I have mentioned mrChaos doesn't like sweet food? Of course dessert is all well and good, but otherwise he'll take his food sans sweet. Thousand Island dressing (the key element to a great Reuben if you ask me) was on the list of foods too sweet. So I whipped up a spicy homemade version to see if I could sway him. The result, "I would actually eat Thousand Island dressing if it tasted like this!" Well, um, apparently it does…
So I mistakenly thought all chili sauces were the same, and I used Indonesian Sambal Oelek, which was delicious! But also melt-your-face-off HOT. Like, even the boys were all sweat, pant, soak truffle fries in ketchup, anything to soothe the hotness… I actually thought I might have poisoned myself. So take it from me and start with a couple of teaspoons and work your way up.
Homemade Thousand Island
makes approx. 1 cup, prep 10 min, chill before serving
3/4  cup mayonnaise
1 tsp Sambal Oelek up to 1 tbsp which might kill you, you have been warned (2 tsp is medium spicy for me)
1 tbsp jarred roasted red pepper, finely chopped
2 tsp dill pickles, finely chopped
2 tsp Dijon mustard
2 tsp capers, finely chopped
1-2 tsp sweet relish
Combine all ingredients. Chill.

Posted in Condiments, Easy, Fast, Main Dish